Your Best Homeschool Year Yet
Are you ready to have your best, most incredibly fulfilling and inspiring homeschool year yet?
The Best Homeschool Year Yet Workbook, Planner and Calendar is designed to help you do exactly that.
Homeschool Planning with a difference!
Too often when we plan our homeschool year we think only in terms of 'academics'. We spend a fortune on a new curriculum or a pile of textbooks only to have them languishing at the back of the cupboard before the first half of the year is out. Or we stick rigidly to them no matter how bored or uninspired everyone feels. 
What we are forgetting is that life isn't just about academic achievement.
It is about passion and fun and love and inspiration. And these are the elements that we should lay down in our homeschool first, before we even begin to think about the academics.
Our job as homeschoolers isn't to turn out academically successful work-candidates - it is to help our children find and develop their passions so they can make a difference to the world.
This workbook shows you how to live a supportive, inspiring passionate year of homeschooling - and still be sure your children are learning all the time. 
And even better - you get to have fun too!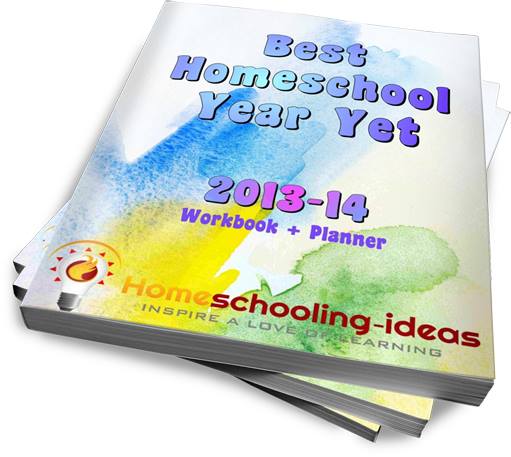 "I mostly like that it's not ....just another planner. It's different than anything else out there. And it's simple which usually means success." Lori D.
These workbooks will guide you through 4 parts of designing your own best homeschool year yet. 
1. Learn from last year and then say goodbye!
2. Dream Big. Decide what a Best Homeschool Year means to you.
3. Take Action. Turn your dreams into actionable steps you can take throughout the year.
4. Calendar and Action worksheets to help you stay on track. With the Best Homeschool Year Yet we don't plan and schedule our year like normal planners! We just do enough to help you keep doing the things you want to be doing, in a simple to manage way.
Dream, Plan and Create your Best Homeschool Year Yet.
What you get in this workbook :
How to dream big dreams about your homeschooling this year.

Reflective questions encouraging you to take a step back and see what homechooling really means to you and your family.

Discover and set goals for all the wonderful things you wish you could be doing when you homeschool.

What to do when things are not going to plan.

Take your dreams and turn them into step by step planned action.

Monthly calendar and planner

Over 70 pages + worksheets.
"I would really encourage anyone who is tired of feeling like they don't accomplish the things that are really important to their home school to get Homeschooling-Ideas Best Home School Year Ever Workbook and Planner.
You will move forward in your dreams and plans for the best home school year ever!" - Lori D.
Some of the gorgeous worksheets and planner templates you will find in the workbooks :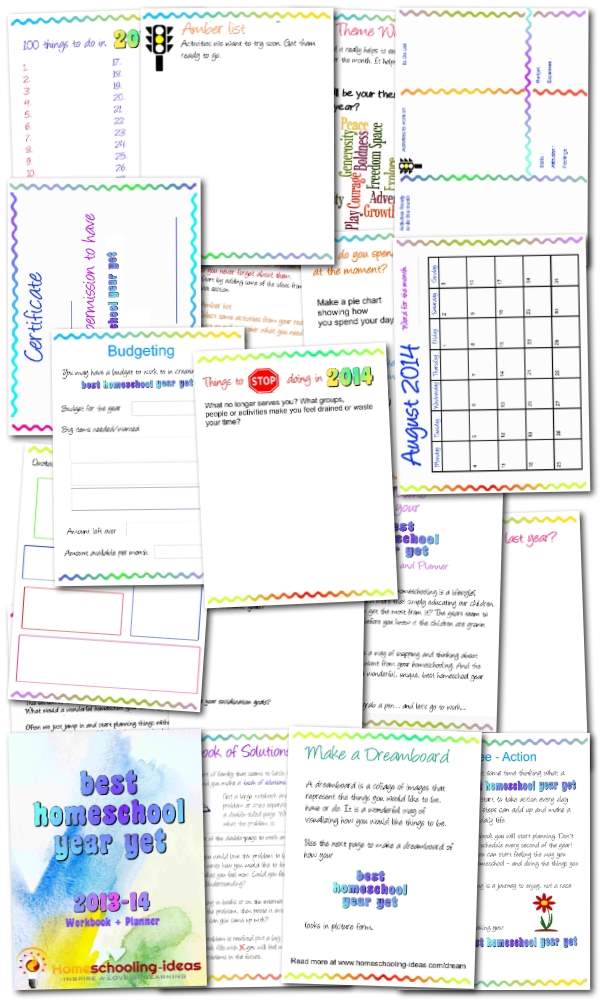 Frequently Asked Questions
Why are there 2 planners available?
The 2013-14 planner runs from September 2013 to August 2014. (no longer available) 
The 2014 planner runs from January 2014 to December 2014. 
Just chose the one that best suits the way you schedule your homeschool year.
Isn't this just fluff. Will my children learn anything?
Preparing your children educationally for their future doesn't only mean stuffing their heads full of academic facts. Homeschooling is a life experience that is rich, fullfilling and inspiring. This workbook helps you find what is really important to you and include those things into every day.
I usually go with the flow.
Me too! But I found I wasn't always getting to the activities I really wanted to be doing with my children. This planner helps me stay on track and do wonderful things - without micro managing my time.
I use a curriculum. Can I still use this workbook?
Of course! The workbook will help you decide what you want from your homeschooling and helps you put those things into action. A curriculum may be one of the ways you decide to do that.
Is it a hard-copy book? Will I recieve something in the mail?
Nope. The workbook is a PDF digital download only. A link will be sent to you so you can download them to your PC or tablet.
I don't have a printer... Are the books interactive so I can use them on my PC?
I am sorry but these versions are not interactive (I can make future versions interactive if I get enough demand but I wanted to keep costs down.)
If you don't have a printer you could :
1. Have it printed at your local copy store or online sites like Mimeo (US), Fileprint (UK) or OfficeWorks (AUS)
2. Download to your tablet and use a pdf annotating app. Check out this blog post for details.
Can I buy the workbook as a gift?
Yes you can :) Buy as many copies as you would like. Email me the email address of your friends - and I will send them a gift email with a voucher for a gift copy of the workbook they can download.
Can I see some reviews?
Of course! I am adding reviews as soon as I can.
Homeschooling-Ideas

›
Homeschool Schedules
›
Best Year Yet Homeschool Planner and Workbook