Free Educational Podcasts
Education from your ipod!
Home >> Homeschool Freebies >> Free Educational Podcasts



When the children both got ipods, I began to look for some way to use this technology for a bit of sneaky homeschooling. I soon discovered that there are some wonderful resources available - if you know where to look!
Educational podcasts are a wonderful way of homeschooling for free.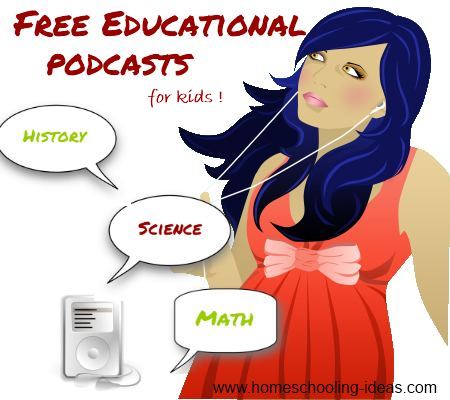 As well as podcasts, I have included some other mp3 type resources. Here are some of our favorite listens:

Science
Video Podcasts
Audiobooks
Podiobooks have free serialized audiobooks that you can download on a schedule.
Learn out Loud have free audio downloads for kids. This is a great place to find educational podcasts for adults too!
Childrens Podcast Bedtime stories (for younger children).
More Podcasts
If you are happy to listen online at your PC then try:
Enjoy your listening! If you find any other great free educational podcasts then I would love to hear from you. For more ideas for using your MP3 player - check out my Educational iPod Ideas.

Return from Free Educational Podcasts to Homeschool Freebies page

Return to Homeschooling-ideas Home Page