Educational ipod Ideas
Give your kids an ipod Education!
Children really enjoy using ipods (and other MP3 players) but this type of technology doesn't have to be limited to music.
Why not turn their ipod into an education
?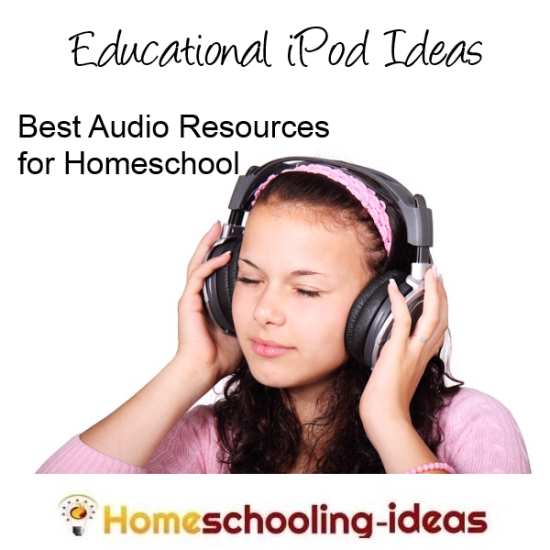 When my children got ipods for Christmas I began to look around for ways to use this technology for a bit of sneaky homeschooling.
There are
some wonderful resources available
that I want to share with you. Not all the resources on my list are free, but I have tried to choose ideas where you can at least download a free demo.
Audio Resources
Podcasts
Audiobooks
We mostly use the ipods for listening to audiobooks. There is a huge range available. For free (legal) resources I would recommend:


Educational Songs
My children don't really like 'learning songs' very much but I know some children love them. Here are some good places to go to find them.


Songs for Teaching - not free but a huge amount of educational music. Many albums have free downloads of two or three songs. Also - if you sign up for their newsletter they send you links to free downloads.
KidsKnowIt - Lots of free educational songs but not all downloadable. Mainly for younger children.
Language Resources
Don't forget to load your existing language Cds into your ipod. If you are looking for new stuff try:


Open Culture - a really comprehensive list of free foreign language lessons.
Homeschooling Ideas
Lesson Plans and Study Guides
Providers of educational materials are now beginning to tap into the technology of MP3 players.
Games
I am still looking out for games that are educational without being boring! Here is what I have found so far.


Tangram game - (link opens in iTunes). Free version of a Tangram game - you can buy a larger version.
We have had a lot of fun making our ipods work for us!
If you have any other educational ipod ideas, I would love to
hear from you
.
Homeschooling-Ideas

›
Educational iPod Ideas