Free Homeschool Curriculum
Smorgasbord Lesson Plans
Want to try something different?
Try this totally free curriculum!
Smorgasbord lesson plans introduce a new subject every week to expose your child to as wide a variety of subjects as possible.
When I am trying to explain homeschooling to people, I generally say that it allows you to provide a 'smorgasbord of learning' for your child. A smorgabord is a type of Scandinavian meal served buffet-style with multiple dishes of various foods on a table. So you have lots to choose from!
This year, I decided to create a free homeschool curriculum that really reflects this philosophy!
Homeschooling Curriculum
I make no claims at all about it
- except that it is fun, and will introduce both you and your child to all sorts of learning experiences!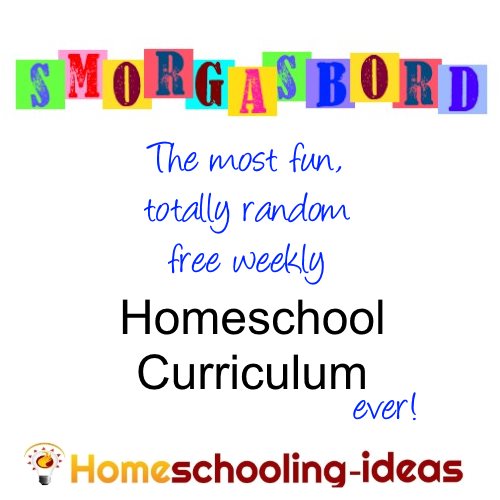 In looking at
homeschooling styles
I have come to realise that we are not good at long, drawn-out projects. We get bored, or sidetracked, or both! So these lessons plans introduce new (totally random) subjects each week.
How it Works
The curriculum is broken into 36 weeks which you can divide into your 'school year' in any way you wish. How about 4 terms of 9 weeks, with 4 weeks break in-between.
Each week you focus on a totally different subject
. There should be no anxiety about not finishing the week before - you have probably gained all you are going to get from it. So just move along!
We will focus entirely on that one subject each week - so I am hoping to get some depth as well as covering a large number of subjects.
Some of the subjects need a little more planning than others
so I have noted that in the homeschool lesson plans. If you are having a busy or stressful week, then choose one of the easier subjects.
Click here for the Smorgasbord Homeschool Lesson Plans.
Curriculum Outcomes
I am looking each week to 'produce' something out of the lesson plans - and not just study for study sake. I am hoping this makes it more interesting - and makes record keeping easier.
One of the things I have also introduced is to ask the children to see if they can
find a connection between each weeks subjects
. We may have to work quite hard to find a connection but I would like to get them 'joining up' the unrelated knowledge they have.
I really did just choose the subjects at random!
I am hoping to spark an interest in my children and encourage them to pursue things they enjoy themselves
. Feel free to switch, reorganize or ignore my suggestions and write your own.
Sponsored Links
Curriculum Lesson Plans
Weekly Smorgasbord Plans


Deciding whether to homeschool?
It is a big decision, and there is lots to think about. Make sure you are clear about the
pros and cons of homeschooling
.
Just starting out?
Wondering how to really get started with homeschooling? Here is my advice on
how to start homeschooling your child
.
Do you Homeschool already?
Get creative
and try some new ideas. Every month I produce a newsletter to inspire and encourage you in your homeschooling.
Click the button below now to get inspired!

Home

›
Homeschooling Curriculum
›
Free Homeschool Curriculum