Complete my Homeschooling Survey
... and download your free ebook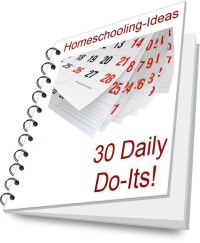 Would you like to help me to make www.homeschooling-ideas.com more inspiring than ever?
I promise it won't take long!
And as a thank you, I have a free ebook for you to download.
The FREE 30 Daily Do-Its ebook outlines 30 quick activities that you can do with your children. It covers five subjects:
Math
Language and Words
Science
Social Science
Fun and Art
Just fill in the form below and you will be given a link for your downloadable Daily Do-Its ebook on the next page.
Please be as detailed as you can in your answers. I genuinely want to help you be more inspired in your homeschooling - and I can do that better if you help me understand what your challenges and frustrations are.
Thank you!!



Thank you so much for your help. I hope you enjoy your free ebook!