Home School Ideas
Need some home school ideas? Whether you are just starting to homeschool, or you are looking for a more relaxed homeschooling routine, this section should kick-start your imagination.
I have collected together for you here, a whole host of creative homeschool ideas that worked for me and my family.
The home school ideas here are shorter activities – most of them can be done in a few hours, but they make a creative and educational way of having fun and adding 'Fuel to the Fire' of your passionate learners!

Take some time to look around and see which of these fab projects would suit your family.
New Homeschooling Ideas
Top Subjects
Lots of homeschool project resources and activities. Everything from science experiments to geocaching - and some creative ways to encourage your children to get writing.
In Store
Check out these top sellers from the Homeschooling-ideas Store.
Creative Ideas
I couldn't get these ideas to fit into any particular category! But these are some interesting things we have tried in our homeschooling.
Character
Great ways to teach your children about kindness and restore a little homeschool harmony.
Edducational
Here are some great ideas that will really help your homeschool take off. Ways to make the most of your MP3 player, take a quiz, or watch a movie!
Nature
Exploring nature makes a wonderful way for children to learn. Here are some ways to turn this activity into something special.
Sport
Do you all need to get some exercise? These ideas for sport and PE will get you moving! Includes sports you can do at home.
Seasonal
From Summer fun to demonstrating the meaning of thanksgiving. Here are my favorite seasonal creative homeschooling ideas.
Photography
There are lots of creative ways you can use cameras and webcams in your homeschooling. Here are some photography and animation ideas.
I hope you enjoyed reading these home school ideas - and feel inspired to try some new activities with your children. Make them part of your homeschooling extracurricular activities - or theme them with your current project for some fun learning.
---
| | |
| --- | --- |
| | Get great ideas delivered direct to your mail box every month! Just sign up for FREE. |
---
More Articles to Inspire You
Homeschooling Activities
It is important to maintain a balance when choosing your homeschooling activities. Here are my tips - plus some ideas for activities to try.
Family Fun Activities - fun activities for kids and parents
Over 100 ideas of fun things to do together as a family. Why not make it a year to remember!
Homeschool Inspiration
Lots of home school ideas and tips for getting inspired in your homeschooling.
Find more great homeschool ideas on my Pinterest boards!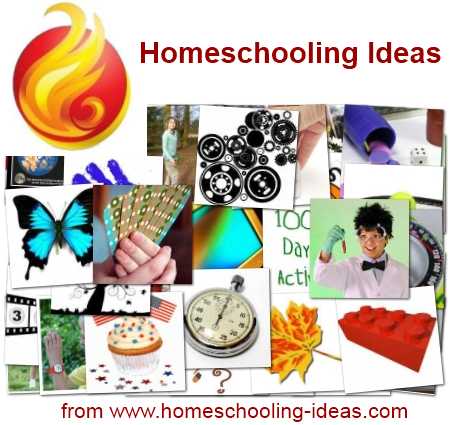 Go to Homeschooling-Ideas Home Page from Home School Ideas.