Free Homeschooling Worksheets
Does it seem that you are taking hours to find the 'right'  free homeschooling worksheets, and you are still having to adapt them to suit your family?
I have pulled together the best worksheets and links I could find, to save you time and effort in your homeschool.
Using worksheets as part of your homeschooling can be very helpful - just make sure you don't use them as 'busy work' when your kids could be doing something more interesting. 
Some children really love working through worksheets, so keep your child's temperament in mind too. If you are getting resistance from your child then try something more hands on like the ideas on my homeschool ideas page instead. There are lots of ways to learn and worksheets are just a part of that!

Using Worksheets in your Homeschool
Worksheets work well as part of a one hour schedule, or in homeschool workpockets.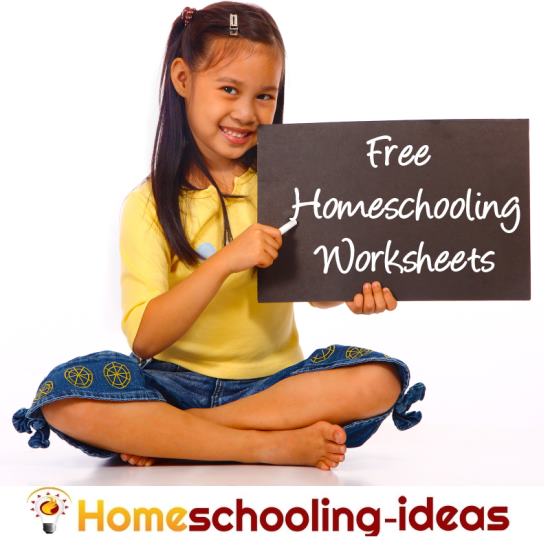 Top Tip - Save Paper
Homeschooling Math Worksheets
Kindergarten Math
Ages 4-11 Math
All grades
Free Homeschool Worksheets for Middle and High School Aged Children
Reading and Writing Worksheets 
Capitalization and Punctuation Worksheets
Homeschooling Journal Writing Prompts
Handwriting Practice Sheets
Phonics Sheets
Reading Comprehension K-2
Sports Writing Exercise
Comprehension Worksheets k-2
Homeschool Science
Free Periodic Table Worksheets
Printable Periodic Table of Elements Chart
Useful Homeschool Printables
Free Educational Posters
Dates for Timeline
Notebooking Timeline Template
Kids Quiz Sheets
And for something a bit different..
Inspiring Homeschool Worksheets
Fun Free Homeschool Printables
Cupcake Flags Printouts
More Free Homeschooling

Do you Homeschool?
Get creative
. This website is all about great projects and creative activities you can use in your homeschool.
Click the button below now to get inspired!

Homeschooling-Ideas

›
Free Homeschooling Worksheets