Around the World in 80 Days
Homeschool Books Review
Home >> Homeschool Books >> Jules Verne
Around the world in 80 Days is a great way of studying homeschool geography. 
We did a complete geography project using the book with lots of hands on activities - and some very fun learning! For resources and activities to use with the book see my resources page.
But I wanted to write you a quick review so you can see if the book is for you - and where to get it from!
The book, by Jules Verne, is available as a free downloadable e-book from Gutenberg. I did try this as a read-aloud, but it was quite hard going, so we switched to a free audiobook available from AudioBooksforFree. (It is worth paying the few dollars to upgrade the sound quality).
The main character of the book, Phileas Fogg, makes a bet to travel around the world in eighty days. Setting out with his servant, Passepartout, the two travel using several modes of transport. It is a race against time! To further complicate the plot, a policeman suspects Fogg of being the man who robbed the Bank of England and pursues them around the world.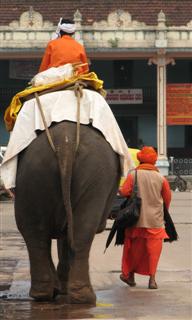 The book is quite fast moving and there are plenty of adventures (including rescuing an Indian lady from a sacrificial death!).
Once we had settled into the book, we all enjoyed it (even my 7year old). It did have a feel of a bygone age about it, but in a way that was part of its appeal.
For more geography based fiction, see my Geography Homeschooling Books page.



Do you Homeschool?
Get creative. Ditch the curriculum for a time and try some new ideas. This website is all about great projects and creative activities you can use in your homeschool. Click the button below now to get inspired!

More Homeschool Books
Leave Around the World in 80 Days for Homeschooling-Ideas Home