Homeschool Geography
Around the World in 80 Days
Home >> Homeschool Unit Studies >> Geography

This is my homeschool geography plan for studying Around the World in 80 Days by Jules Verne. I have listed resources first, then my study outline.
For more general geography resources see my Kids Geography Resources page.
I found that following the journey greatly increased our map skills. The book touches on not just travel around the world, but modes of transport, plus information about time lines and the equinox. It also inspired us to have conversations about why we have passports now!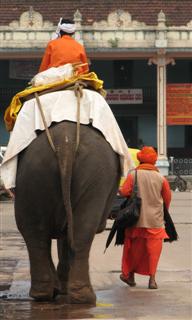 Specific Around the World Resources
Alongside the Jules Verne story we watched Michael Palin's version
(DVD). This was an interesting modern day version of the same journey. There are also several films available on Amazon, but reviews were mixed so we didn't bother. If you can recommend one then please let me know.
There is an 'around the world in 80 days' Study Guide available from CurrClick. Press the preview button at the top of the page to get a feel for what's in it.
For a nice simple map of the journey try this Wikipedia image.
The book mentions the Equinox. This is explained by Wikipedia. A good site for showing the length of daylight at different times is the Childrens University of Manchester.
I feel I must mention the date line as it plays such an important part in the book!! I think the best explanation is probably from Wikipedia again but there is also a good explanation for children on this page (scroll down to 'Synchronise your Watches').
There is a chapter in the book where the train Fogg is on has to go over a bridge that is in danger of collapsing. This might be a good time to introduce the bridge building game from my Engineering for kids page.
Whist is played in several parts of the book. Rules for Whist is a simplified version for children, or Classic Rules of Whist is also available.
Around the World in 80 Days
Board game from Rio Grande
Why not try making a homeschool geography game to go with the book. You could make a top trumps game using landmarks for the countries visited in the book.
Home School Ideas
The book does zip through countries fairly quickly, so plan your homeschool geography route beforehand. My suggestions would be:

London

France

Suez, Egypt

India

Singapore

China

Japan

Hong Kong

San Francisco

New York

Ireland

Before the trip

I bought the children each a large notebook to use as a journal for the trip. I wanted each country to take up a double page spread, and to look like a lapbook (lots of envelopes, booklets, pictures etc.)
Make a passport for the journey.
Packing - plan what to take. Necessities/luxuries. Add details to journal. We used the t-shirt picture from Shapebook Patterns to write clothes ideas in, and took photos of the other items we wanted to take (the journal, headtorches, sunglasses etc).
Get ready to plot trip on large map, globe or Google Earth
Print out some blank booklets and envelopes for journal.

For each country visited

Discuss or Mind Map what is known about each country BEFORE starting.
Make a journal entry. Include map, postcards, photographs of famous landmarks/paintings/people, some foreign words, amazing facts, food details, Capital city. We got creative with this. For example, for France we looked at the Tour de France!
Food and Culture - spend one day eating/dressing like the country, and learning some words.
Re-discuss or mind map what is known about each country now.

Homeschooling with literature in this way was great fun, and I would encourage you to try it! For more books dealing with homeschool geography, see Geography Homeschooling Books.

---

Return from Homeschool Geography to Homeschooling-ideas Home
Return to Homeschool Unit Studies (BIG Ideas) Page