Albert Einstein for Kids Lesson Plan
by Homeschooling-ideas.com
Albert Einstein is the subject for this weeks lesson plan for the Smorgasbord free homeschool curriculum.

Albert makes a great person for kids to study for the week. You can take this in all sorts of directions - his private life, physics, geography and history. The purpose of the lesson is to make a box that contains items that would have been significant or personal to Albert Einstein.


Preparation
Review the resources and lesson plan.
Make a list of items that would have some personal significance to Albert Einstein. Eg.
Flags of places he had visited.
A watch to represent time being the 4th dimension.
Wedding rings.
The rock Einsteinium (no. 99 on the periodic table) which was named after him. We couldn't actually get hold of any so we painted a rock red to represent it!
A nobel prize (ours was made from clay!).
You also need a shoebox and some craft supplies.
Albert Einstein Lesson Plan
Day 1
- Explain that this week you will be studying the life of Albert Einstein. You will be making a box that contains items that would have been personal to him - a memory box for him. Ask the kids to do some research about Albert and find 3 items (each) that they think should be in the box. For example, because Albert was married twice we thought that there should be two wedding rings included.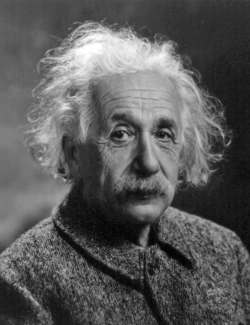 Day 2
- Decorate your box and make/find the first set of items. For example we used
clay
to make and paint the two wedding rings.
Day 3
- Give the children a list of extra items to go in the box. Ask them to research why they are significant to him.
Day 4
- Make the new items to go in the box.
Day 5
- Finish off any crafts or research and then do a Show and Tell about the box to review.
Further Help and Resources
This lesson was inspired by
Einsteins Suitcase
from Enrichment4You - and this would be a big help for this week.
Otherwise,
there are lots of free resources for kids information about Einstein
.
For TeenagersWe really enjoyed looking at Einstein's life
. We probably didn't pick up much physics, but we all learnt lots about the man himself.
PS. If you live in Norfolk, UK (like me) then you may be interested to know that Einstein
spent some time in a hut near Cromer
!

More about the Smorgasbord free homeschool curriculum
.
Find homeschool resources
.
Got a resource or idea to expand this page? Add it below.