Homeschool Battery Experiment
Make your own Fireflies!
Home
>>
Home School Ideas
>>
Battery Experiment
When we were getting ready for our
day without electricity
, I came across a
great idea for making fireflies
from
GeekDad
. I didn't get my act together enough to try it at the time - but we did have a play with it recently.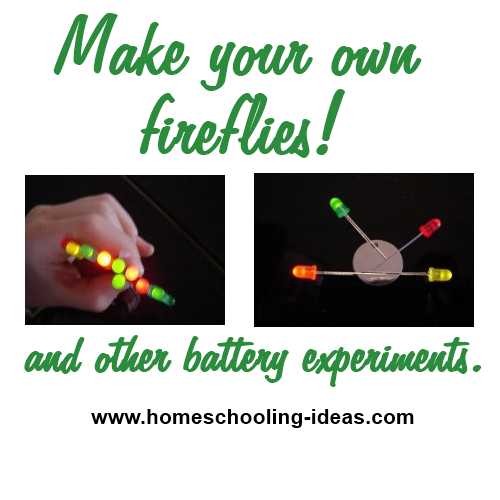 The idea is to let your children loose with some batteries and LEDs.
Without me having to provide too much guidance - we managed to create some great battery experiments! I thought this was a great (low-key) way to do some homeschool science.
This project is really simple and would work very well with younger children
(as long as they are past the age of putting things in their mouths!).
What you need:
Some 5mm LED bulbs

I got a mix of colours - about 20 of them was enough for playing with. You can get them from a hardware store (or order from Maplin in the UK.
With postage our experiment cost me about £12, but would have been less if I bought less batteries and bulbs.
Homeschool Science
The first thing we looked at was polarity.

The bulbs only work if they are placed on the battery the right way around (slip a wire from the bulb on each side of the battery - either hold it or tape it in place).

It took the children some time to figure out that this is why they sometimes worked - and sometimes didn't!
Because we had lots of Led bulbs we then looked at;
How many bulbs can a single battery light up?
What happens if you use two batteries together to light a bulb?
Can you light a bulb without it touching the battery? - Hint: it has to be touching a bulb that IS touching the battery!


We taped some bulbs to the batteries, put them into jars and made little night-lights (very pretty!).

Of course, then the children wanted an on-off switch!! Luckily clever Mom had already pulled some electronic componants together from an old electronics kit. Voila!!
This was a really fun way to have a play with light and electricity
(without all those fiddly wires that normally make this kind of experiment fail!).
It would be a great thing to introduce on a camping trip, or at a sleepover - or just for
strewing
.

This would be a fun thing to start a science project with, and get your teenagers interested in batteries and electricity.
Could they make a battery themselves that would light the led bulbs? How many bulbs can they light at a time with different voltage of batteries? Could they make an LED flashing sign? They might also try making a cluster light - instructions here.

More Great Homeschool Science Ideas
Go to Homeschooling-ideas.com Home Page from Battery Experiments