By the Great Horn Spoon
by Sid Fleischman
Home >> Homeschool Books >> Sid Fleischman
By the Great Horn Spoon by Sid Fleischman was, for us, an absolutely fabulous homeschooling read - and was the highlight of our Gold Rush Activities.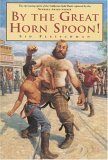 Don't be put off by the cover of this book. Sid manages to portray the harsh times of the California Gold Rush with gentleness and humour. It is about a boy and his butler (a very Jeeves character) who set off to make a fortune in the Gold Rush - and have lots of adventures en-route!
They begin by stowing away on a steamboat bound for California. A good deal of the beginning of the book is about the journey. For homeschool geography we looked up the route of the steamboat and discussed why they travelled by sea and not by land.
Once they get to California, there are detailed descriptions of what life was like as a gold miner. We enjoyed the history of the tale, and we discussed the economics of the times.
The book ends with a clever twist that we really enjoyed. All in all, we were sorry that we had finished the book. We had really got to like the two main characters, Jack and Praisworthy, and are sorry there aren't more books of their adventures!
Home School Ideas
I have a page on Gold Rush Activities that goes well with this book.
Another book that deals with sailing around the Cape Horn is 'Alone on a Wide, Wide Sea' by Michael Morpurgo.
---
Return from By the Great Horn Spoon to Homeschooling-ideas.com Home
Return to Homeschool Books