Can I work and homeschool?
by A.
(Canada)
I work 4 days a week for secular employment, am married (my husband works full-time).

Would it be possible to homeschool my 7 & 8 year old children?

One is doing very well in the public education setting but the other has been noted as "falling behind" since day-1 and I'm tired of being asked for "special assessments" to be done, which cost a fortune when I am very aware of how intelligent my child actually is.

Please let me know what your opinion is as I'm a well educated mom struggling with the lack of options in "structured classrooms" for children who need to learn at their own pace and focus on their strengths rather than limitations.




Hi A.
You would need firstly to check the homeschool regulations for your province (
this
would be a good place to start). You need to check if they require you to show a certain number of hours of learning per year - and whether this is doable with your schedule.
I am assuming that childcare when you are working is not a problem! Providing you can meet homeschooling regulations then I see no reasons why you could not homeschool (and a lot of benefits!) You would still have a lot of time outside of your work to spend with the children.
I would recommend you read 'Homeschooling Odyssey' by Matthew James. He was the original inspiration behind my
one hour homeschooling
schedule. I think he will give you a lot of confidence about how much your children will learn without needing a 'school-type' curriculum.
You sound like you have thought a lot about this, and about what homeschooling can give your children. I feel sure that if it didn't work out the way you planned you would change things to make it right.
I think you should trust your gut feeling about this
. If you think it would benefit the children, and YOU think you can work around your work schedule - then I think you should go for it!
best wishes, Julie.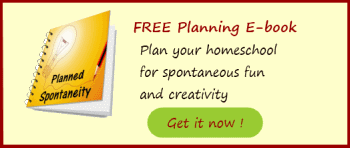 Go to
Homeschooling Help from Can I work and Homeschool?
.
Go to
Homeschooling-ideas Home from Can I work and Homeschool?
.