Creative Writing and Storytelling for Kids
by Birgit Janssens (Hogben)
(France)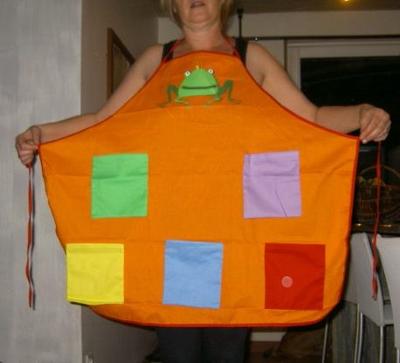 Story Telling Apron

As you know I am not a homeschooling mum but an English teacher in a french school, but I love your ideas and do use them in class so I'd like to share with you a recent find on a book fair in Belgium.

The idea was for little children but I will use it in class for creative writing and story telling: The box can be made by you and with different themes:

The box contained a colorful Storytime Apron
with 5 removable pockets (ONCE A CARD HAS BEEN TAKEN OUT OF THE POCKET YOU REMOVE IT FROM THE APRON TO AVOID THEM TAKING A THEME CARD TWICE) on it in different colors, 75 cards divided in 5 series each having a different color.

Children can pick a card out of each pocket and design a story (oral but later it can be written down).

The Story Cards
Blue: representing heroes. Cards include king, queen, sweet diplodocus, dancer, little girl in love, little boy, dwarf, cat with human clothes on, knight, fairy, Inuit, hunter, a dad, a mum, empty list to add the family or class picture
Purple - allies or helpers (in a story a hero encounters obstacles and enemies but friends can help him) Cards include sweet witch, alien, sheriff, little dog, clown, fakir, Chinese emperor, astronaut, sweet gran, Arabian princess, wizard, frog, fireman, pizza baker, Bedouin .
Red cards are enemies such as green monster, ghost, pirate, dangerous bear, mean witch, a thief, a spider, a rat, angry lion, robot, giant, crocodile, wolf,toad, man eater.
Green are different places. bank of a river,mountain, corn field,starry sky, thunderstorm at night, gate of a castle, island, beach with palmtrees, forest, snowy landscape, jungle, cherrytree full of cherries, an attic, a cellar, farm
Yellow for magical objects. dice,cake, trunk, a shoe, a book with magic spells, a cauldron, a modern telephone, a hat, a saw, a basket, a watch, a mirror, sunglasses, a sword, a car

You start the story with once upon a time and even later let them describe each card or whatever your fantasy or theirs adds. Start inventing a title, the start of the story: who, what, where , when, develop: what happens, who is threatened, where is the threat, complications: what action can one undertake to keep danger away, what are the results of the action, solution: how does the main character succeeds, his feelings, moral of the story.
The adventure the hero encounters is exciting and full of fantasy.
Children enjoy discovering the cards and the excitement of finding the story.
The scheme of a story can be led by you but can be left in the hands of the children too!
Creating their own story book
, including the cover of it can be an exciting activity too. Adding numbers to the pages, the book can become part of your library. Laminate the cards so they can be stuck in a book ,restuck, reused for endless adventures! Copies of the cards can be made and then really be their booklet!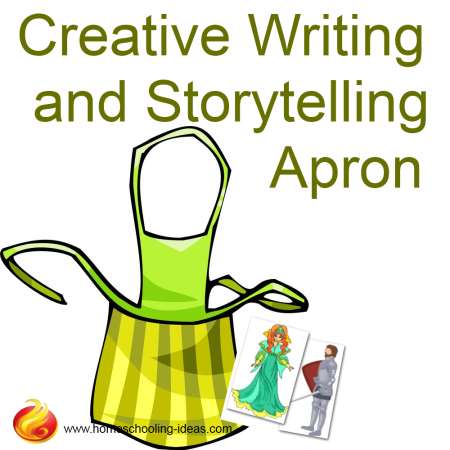 I intend to make a lot more cards based on certain subjects I want to teach but to start playing with them now seems great: pupils can make a sentence, a paragraph or a story with them. I think creating a box like that based on the ideas of your children or pupils alone is already a great activity!
Big hug, hope you like the idea
Birgit

Wow, Birgit. I think this is a fabulous idea.
The cards could be put in a box, you could add some removable pockets to a bought apron, or you could even make your own from scratch - there are some fabulous free apron patterns
here
.
Thanks for sharing. I am sure everyone will love this idea.
More Ideas for Homeschooling