Homeschool Geography Field Trips
Home >> Homeschool Geography >> Geography Field Trips
With a little bit of imagination you will see there are many opportunities to go on great geography homeschooling field trips for free.
Geography is literally 'all around us'.
By taking them out into the community around you, you can help children to understand more about their environment and the roles that people play in it.
Some of these trips listed may need organising ahead (particularly if you are taking a group of children), but I have tried keep most of the ideas free!
Make the best use of your local geographical features, by trying some of these field trip ideas.

Ideas for Geography Field Trips
Follow my tips for homeschool field trips to really get the most from your day.
Set up a photographic treasure hunt for the children to follow.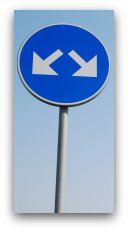 Check out your local architecture - take a walk around town to spot some of the best buildings. See if you can find out when they were built, or who the architect was.
Most 'town' brochures or postcards feature photos of the 'best' parts of town, or areas of natual beauty. Take a hike around and try to spot 'views'. Why not see if you can replicate those photographs yourselves. Where exactly did the photographer need to be standing in order to take it?
Take an audio tour using your MP3 players There are several free audio tours available for download. Do a search for 'audio tours' for your area, or see what is available from Tourcaster
Visit your local tourist information office to collect brochures - and quiz the staff about your town. It is interesting for the children to meet people who are knowledgeable about the geography of the area.
Is there a big industry near you? Watch aeroplanes land, or delivery vans leaving the factory. Find out who the top three producers are in your area and compare their location and premises.
Go look at your local wind turbines or other power plants
Make a tour of your local bridges, or other engineering feats.
I hope these ideas for geography field trips get you started! For more ideas, why not check out these Free Field Trips.
---
More Homeschool Geography Ideas

Leave Geography Field Trips for Homeschooling-Ideas Home