Geocaching for Kids
One of our favourite Geography Activities
In an attempt to make dog walking more exiting, I finally got around to taking a look at geocaching for kids.  This a terrific activity to do as part of your homeschool geography. 
As well as map reading, this is great for local geography and also often includes some history. 
It would be great to do a hunt as part of a nature walk - and in fact, many geocaches are designed with this in mind.
Geocaching is a free, world wide outdoor treasure hunt!
A Geocache is a hidden container or object that is found (usually) by using a handheld global positioning system (GPS) device. Basically a scavenger hunt, you use the coordintes given by the 'hider' to find the cache. Inside the cache is a log book so you can log that you have found it, and often a small treasure,
geocoin
or
geobug
. You leave the cache where it is for the next person to find.
There are thousands of registered geocaches hidden around the world
. One of the big surprises to me was how many geocaches there were in my vicinity (some even in the places we regularly walk our dog!). And now we are hooked. This would be a great way to enliven a long boring car journey, or add extra interest to a homeschool field trip.
Although mostly aimed at adults, geocaching for kids is fun if you choose one of the easier geocaches.
Well - we don't have one!
When you go to look for geocaches in your area, you will get the map coordinates of the hidden container. Also on the web-page is a google map.
I have found that it is possible to find caches without a GPS
- but we usually have to decrypt the clue that goes with the cache to give us a bit of help. Using the map gets us near - but not as near as I think a GPS would (although I have read that a GPS will only get you 30-100 feet accuracy so perhaps not!). With one cache we haven't found yet, I am going to get the children to measure the distance on the map from a landmark, and then we will try pacing the distance to see if that helps.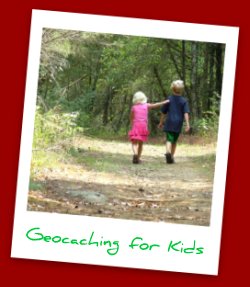 To find geocaches in your area, go to
geocaching.com
and register (it's free).
Type in your zipcode/postcode. This will provide you with a list of chaches and their difficulty rating.
Choose a cache and the details will come up including where it is hidden, when the cache was last found, and usually a clue to help you find the hidden container.
I found it helpful to read through the log files as this often gave extra clues as to where to look incase I needed to help the children
.
If you do not have a GPS you will see there is a google map on the geocache page, which you can zoom in on for more detail. When printing out the details it is best to click on the 'print' option on the page rather than just printing it yourself - as this ensures the map is printed properly.
Start with an easy geocache (check the difficulty rating) and prepare the children for the possibility of not finding it first time (especially if you are using a paper based map).
Do your homework - check out the terrain and length of time the hike will take before you emark on it (especially with small children). Some caches are really close to where you can park, so if you want a bit of a walk you will need to find a new parking spot. It is also worth while reading all the comments on the website about the cache - they will give you lots of clues as to wether the geocache is suitable for you.
Print out the map and instructions (coordinates, clues and so on) before you go. And remember to take them with you.
Take drinks, snacks and suitable clothing. You will also need a pen to sign the logbook with your name, the date, and a few words about your experience.
Remember to explain that if you find the cache, you have to leave it there for the next person to find. Prepare the children for the idea that if you take something from the cache, you should replace it with something of equal value. Have a few little treasures ready for swopping (stickers, coins, etc).
Let's Go Geocaching
would be a great little book to give to your kids to let them read about geocaching themselves.
I really recommend you try geocaching for kids as part of your homeschool geography.
It is great fun AND educational. What more could you ask!

Geocaching gets even more fun as your children get older, because they can start to plan and leave their own cache.  There is some information here about how to prepare, hide and submit a cache for everyone to find. 
---
Your Geocaching Homeschool Stories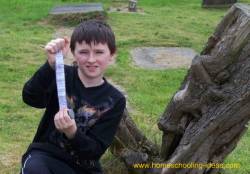 Jayne contacted me with the news that they had found their first geocache!
"Attached is a picture of him holding up the log book from the first geo-cache which we found after being inspired by your site to give it a go! We've been out to another one, but I couldn't quite find it - a GPS would have come in handy there!"
Thanks for the picture Jayne, and well done! If you try geocaching for kids this I would love to hear from you too.
Homeschooling-Ideas
›
Kids Craft Ideas
›
Geocaching for kids