Healthy Homeschool Lunches
I love to bring you great homeschool ideas, so I have great pleasure in introducing your healthy homeschool lunch to bento lunch boxes.
A bento box is historically, a Japanese lunch box.
To give a nutritionally balanced meal the Japanese divide the box into portions
- 3 portions cabohydrate (rice, bread, pasta), 2 portions fruit and vegetables and 1 portion of protein (chicken, meat, cheese). Bento boxes often have dividers in them, but you don't need to have a special box - any airtight carton will do.
The clever part is that the capacity of the box matches the calorie count required for the meal
. So a 600ml capacity box will roughly (depending what you put in it!) work out to a 600 calorie meal -
perfect portion control
.
A child may need anything from 500 to 800 calories for lunch depending on their age and activity level. You can roughly calculate what they need
with this bento box guide
(don't forget to add 100 calories if you have an active child).
Bento lunch boxes are becoming popular for dieters and those looking to eat more healthily
. I think they will work really well for homeschoolers too. Make up your boxes in the morning, and you are ready for anything!
Bento boxes can be an art form - the food in them is supposed to look nice. Because the lunch is attractive,
they appeal to picky eaters
(ie. almost all children) and will put a little zen into your lunchtimes.
You don't have to put Japanese foods into your bento box (unless you want to).
There are lots of healthy snacks for kids recipes on the web
. I thought they might be fiddly to prepare, but you have to make lunch anyway, right? And
Lunch in a Box
says she can do it in 15 minutes.
The key is that a lot of foods can be cooked in batches and frozen - then thawed and ready to eat (just make sure
you follow safety guidelines
).
You can make an interesting and flavourful box by using a mix of your freezer foods and adding fresh fruits and vegetables
. As well as leftovers, think fingerfoods (tiny quiche, pizza, salads and hard boiled eggs). If you don't have compartments in your box you can use smaller containers, or muffin cases to divide the food. Think about mixing and matching colours that will make the lunch attractive, and use cookie cutters to make shapes. (Did you know you could get egg molds for your hard boiled eggs!). Be sure to think healthy - lots of fresh vegetables and fruit!
What I really like about the bento box is that it makes it easy to provide a nutritionally balanced lunch
. My children love finger foods, so this will work really well for them.
I think this may turn out great for the summer - I am going to try to make really attractive lunches at least twice a week for the next month and see how I get on. I bought a
Finger Food Cookbook
months (years!) ago (
Try used copy of this one in UK
) and have never used it - so am going to use the opportunity to try out some of the recipes.
What about your lunch? Do you have a healthy homeschool? Why not give bento lunch boxes a try?

If you have a creative teenager that likes to spend time in the kitchen, they are going to love Bento Boxes!
There are all types of creative sites and ideas on the internet about it. 
A new variation on this is Muffin Tin Meals which are also beautifully created and prepared.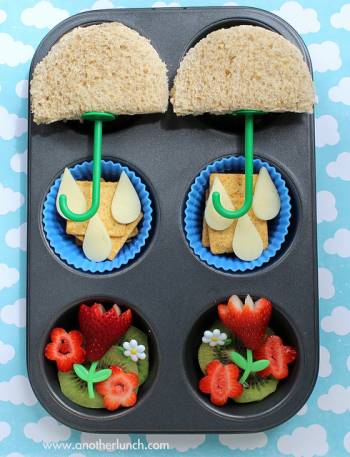 I think making this type of lunch and photographing it would be a fun project for teens. 
It could be a regular meal -Muffin Tin Mondays seem popular :) or they could just use their skills for a special occasion.
There are several groups on Flickr.com that they could participate in - or just share their creations to Instagram or Pinterest. 
Homeschooling-Ideas

›
Homeschool Information
›
Healthy Homeschool