Home Schooling Schedules
The Ignite the Fire Checklist
Home >> Home Schooling Schedules >> Ignite the Fire Checklist
This is a simple example of the checklist I use as part of my Time Out Schedule which encourages self directed learning.

See more home school schedule examples


The first part of the schedule helps me to remember what projects the children are working on - and I can see at a glance what may be falling behind.
I then have space to identify what things to strew that week - and a note of other projects that the children may be interested in. It helps me remember to what new projects to introduce if we begin to wonder what we can do!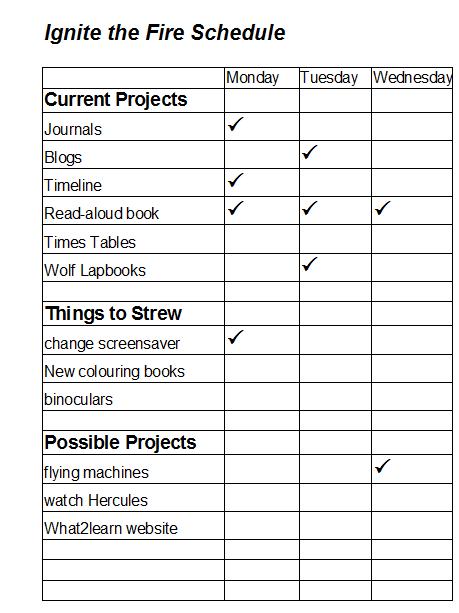 Although this is a very simple shedule, it it just enough to help me keep on top of my homeschool goals - and focus on what we can be doing each week.
Share your Schedule
Do you have a schedule to share? I would love to see how you do things.
Please contact me and tell me all about it.
---
See more Home School Schedule Examples

Leave Home Schooling Schedules for Homeschooling-ideas Home Page