Homeschool Ideas
THINK before you speak!
I had heard of 'THINK before you speak' but our latest project has opened up a whole new world!
The 'THINK before you speak' bracelets are the brainwave of Shell from Eclectic Eccentricities who wanted to find a way to stop her children bickering.
She asked her children to THINK about whether what they had to say to each other was;
T- thoughtful
H- helpful
I- intelligent
N- necessary
K- kind
and the bracelet was to serve as a reminder.
I think this is a great way to remind ourselves to be nicer in our communications, so we made our own version.
How to make a THINK Bracelet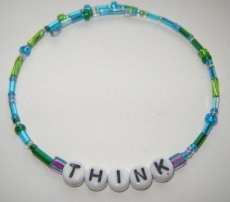 We made our bracelets using memory wire.
The wire comes in a spiral and needs cutting to fit - but it retains its circular shape. Bend over one end with pliers and thread it with beads. Then bend in the second end to hold the beads in place.
The bracelet opens easily to put on and doesn't need any catches or fasteners.
If you haven't come across memory wire before then you may find this video useful.
On Wrist Reminders!
Of course, having bought a bag aof alphabet beads we started to look at other uses for them! And that got me thinking about other uses for this type of 'on-wrist' reminder.
Goal Setting - Does your child have a particular goal that they want to achieve? How about a motivational bracelet saying GO FOR IT or SUCCESS. Or spelling out the goal itself as a way to commit to it.
Wish Bracelets -I think it would be lovely to make wish bracelets in this way. Visualising what you want helps to manifest it and this would be a great reminder (also see vision boards). If you don't want to spell out the whole wish, you could make up a code word to represent it.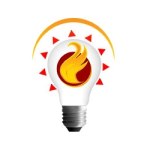 Idea -
The code thing got me thinking that you could also make code bracelets. How about using different colored beads to make a 'morse code' bracelet. 
You could use one color for the 'dot', one for the 'dash' and perhaps a spacer color. 
Reminders - This would be a great way to remind your child of something they need to work at every day. A reminder bracelet saying PIANO or TEETH (we need this one in our house!) could be the spurt they need.
Spelling - I did suggest to my daughter we could use it to spell out difficult words that she would like to learn! This did not go down well! But perhaps your children are nicer than mine!
Mnemonics - If your child is trying to learn something difficult, perhaps you could make up a mnemonic or acronym bracelet to help them.

I hope you have fun trying out these ideas - and have a little more homeschool harmony in your household!
Homeschooling-Ideas

›
Homeschool Ideas
›
THINK Bracelets