Homeschool Photography Lesson Plan
by Homeschooling-ideas.com
Photography week was a great hit in our Smorgasbord free homeschool curriculum! We really enjoyed this one.

The homeschool lesson plan for this week is to take 12 photographs to use to make a monthly calendar (1 photograph per month). We decided that this would make a great gift for family and friends.


Some of our Photographs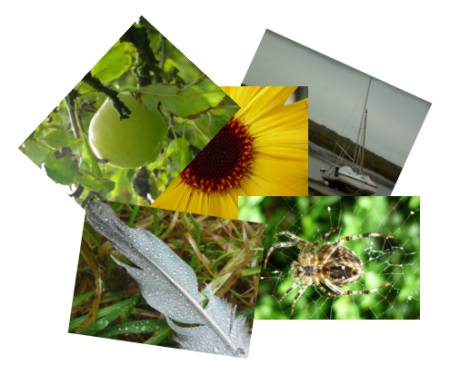 This would be a great project to keep for a week when you have lots of running around to do
. It involves going out quite a bit (to take photographs) and of course, going out early morning or sunset makes for better photos. It is definitely not a 'sit around the table' kind of week!
It rained non-stop during our week - but we still managed to get some good shots. So don't worry too much about the weather - just make the most of what you have.
Preparation
Charge your camera batteries.
Find your camera manual (if you still have it) and a tripod (if you have got one).
Print out some examples of photography and/or find a photo calendar.
If you can get them, then it also helps to have :
A sheet of accatate film, permanent marker and a ruler.
Some sun-sensitive paper


Lesson Plan

Day 1 - Composition.
Explain the project to the children and show them if possible an example of a photo-calendar. Decide on some possible subjects or locations for your calendar - as well as landscapes or nature photography, you could do portraits or still-life pictures.

Explain to them about the rules of composition. Draw a grid on your sheet of accatate and put it over the printed out photgraphs to see the rules in action. Some cameras enable you to set a grid over your viewfinder so you are reminded of the rules when you take a picture.

Go and take some pictures!

Day 2 - Light
Talk about how cameras work and the use of light (exposure). Take some prints with your sun-sensitive paper so you can see the process in action (although slower than in a camera).

Have a look at your camera and see if it has any options for different light conditions eg. snow, candlelight, fireworks, etc. Try to include different light conditions in todays photography sessions (ie. take a picture of a candle, or the stars).

Day 3 - History
You may like to talk today a little about the history of photography. And try to make your own camera obscura or pinhole camera.

Go and take more photographs.

Day 4 - Special Effects
Most photographs these days are digitally enhanced to make them look better. Today you can try adding special effects to your pictures.

PicMonkey is a free online editing tool you could try. Just upload your pictures and work online. You can try changing the exposure and colors of your photo (under edit) - or see how your picture looks in black and white or sepia (under create). See if you can improve your pictures - or add your name to them like a painting.

Last chance to take more photographs.

Day 5 - View, review and make your calendar.
I found two sites where you can make and print your calendar for free (I am sure there are more!)

We were so pleased with our results, that we decided to have it printed for us. We used
Vistaprint
(it was the cheapest in the UK at the time) - but there are lots of companies that do it - do a search on 'photo calendar' to find them.
Further Help and Resources
There is lots of scope in this weeks lesson plan to add things you would like to try. I already have some photography project ideas on my
photography for kids
page, so why not start there.

More about the Smorgasbord free homeschool curriculum
.
Find homeschool resources
.
Got a resource or idea to expand this page? Add it below.