How to Start Homeschooling
The Absolute Beginners Guide to Starting Homeschool
Are you totally lost and really need to know the answer to the question '
how do you start homeschooling
'?
Are you an absolute beginner and desperate for some help but it all seems too complicated?
Don't worry.
I have a FREE course and workbook just for you
.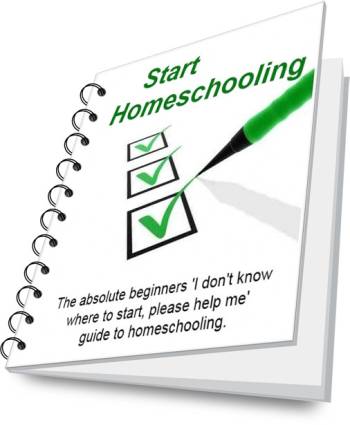 I was getting a LOT of questions from parents just like you on my
homeschooling help
page - and knew that I need to produce a
easy to use guide
on the first steps to starting to homeschool.
So I have created a
simple workbook
and
email course
to get you going.
Oh! And did I mention it was free?
Sign up today to get
instant access
to the workbook and to start your email course.
Tell me more..
It can be very daunting when you first begin to think about teaching your children yourself. Where on earth do you start? I know just how overwhelming it can be.
But there are really 3 simple steps that will get you started on your homeschool journey.
Filling out the easy to use worksheets included in the workbook will give you the information and confidence you need to make a start
.
The workbook really is for
absolute beginners
! That's why the subtitle of my book is 'The absolute beginners I don't know where to start please help me guide to homeschooling'! Of course it is just the first step of learning to homeschool. But sometimes, once we have taken the first couple of steps, the rest of the journey doesn't seem so bad!
The
email course
is my way of helping you through the worksheets - and adding some extra goodies along the way. I include some places you can make contact with other homeschoolers, cool places to get homeschool freebies - and even my top ten favorite homeschool books.
My hope in writing this book and course was to really give you
practical help
and guidance that would encourage you to take a deep breath, know you were not alone, and begin to work your way through those first few obstacles.
So why not sign up today and get started!
I really hope that you find the course and ebook useful. Enjoy!

Homeschooling-Ideas

›
Start Homeschooling
›
How to Start Homeschooing