How to Teach Writing
Home >> Homeschool Writing >> How to Teach Writing
Teaching kids to write is (like reading!) one of those big scary moments that homeschoolers face with their children. But teaching handwriting skills needn't be complicated or stressful. Children love to learn and it is easy to harness their interest.
I will share my experiences on teaching my daughter to write in a moment, but let me share first an interesting article sent to me by Emily Patterson on how to teach writing to young children.
---
How to Teach Writing

Submitted on behalf of Primrose Schools: child care services and remarkable preschool education by Emily Patterson(@epatt1062)
Young children naturally imitate what the adults in their lives do. This is how they learn to do things themselves. While their first attempts at handwriting will not usually be legible, they should be encouraged to "scribble write" and perhaps talk about what they are writing down. This will be easier if parents make a habit of talking with the child about what they are writing themselves. Simply chatting with the child about making a grocery list or writing a letter to Grandma helps her understand that writing is a way to communicate or record thoughts.
Very young children don't have the fine motor skills needed to produce letters. They can still enjoy "writing" their thoughts on paper and talking about them. Parents and teachers should avoid stressing correct letter formation. When a child is ready to attempt actual letters, she will usually ask for help. Let her use a fat marker. The marker will flow better than a pencil and is easier for little hands to grip.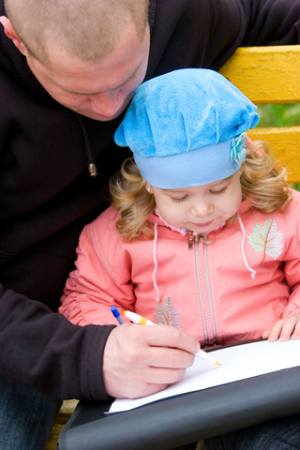 When a child asks how to make a particular letter, demonstrate this with a marker yourself. Usually, this will be the first letter of his name. Let him practice "air writing" the letter. Getting the large muscles involved helps him learn how to form the letters. Also have him practice "finger writing" on the palm or in sand. Sand is especially useful for this because he can easily erase less successful efforts and try again.
Don't be surprised if the first attempts at letter formation only vaguely resemble the letters themselves. Gently guide the child if she realizes this, but otherwise accept these beginning steps. Allowing the child to be where she is developmentally and start there will enhance her confidence. Celebrate her growing awareness of writing as communication. Penmanship can wait until much later.
Keep paper on hand for the child to use but insist that he sit at a table and use markers only on paper. This rule will require some patience and diligence on the part of the parent or teacher, but is well worth the time to establish. Keeping the markers put away out of reach until the child asks for them will help to save the walls, furniture and books while he is learning.
If you use a computer to write or send emails, the child will quickly become interested in learning to use a keyboard. A word processor can make writing much easier for children because they don't have to worry about forming the letters. Don't be surprised if your child quickly surpasses you in keyboard and computer skills!
Teaching children to enjoy writing is much like teaching them to enjoy reading. The key word is "enjoy." Relax and let your child play with writing the way she plays with dolls or toy cars. She will soon be putting down her own thoughts on paper for you both to appreciate.
---

I totally agree with Emily's ideas on how to teach writing. I find that once children understand that writing is a way to communicate, they can't wait to try it out for themselves.
I have fond memories of my daughter pacing up and down dictating stories to me that I typed and printed then read back to her. She was so thrilled that the funny wriggles on the paper said exactly what she had wanted to say in a permanent 'hold it in your hand' way. The next step of course was that she wanted to make the 'shapes' for herself.
As Emily says, the first step was scribble writing. One day my daughter showed me some scribble writing she had made in her journal. "Wonderful" I said, "What does it say?"
"How would I know?" she said puzzled, "I can't read yet!!"
It did seem to take her a long time to develop the motor skills she needed to make her letters clear enough to be easily read – so take your time and be patient. I always take a deep breath and ask myself if she will still be doing things that way when she is 18! Of course, the answer is no! So just relax and allow things to develop naturally rather than trying to teach – you will see significant improvement in handwriting over time even without 'practicing' letter writing.
Concentrate on other tasks that develop dexterity and hand eye coordination – such as coloring, painting, chalking on the sidewalk and using scissors. Making books with children, or using lapbooks for your learning, is also good way to encourage writing practice without your child noticing that is what you are doing!
Homeschoolers are in a unique position to develop writing skills in a relaxed and fun way – and I hope these ideas make you feel confident about how to teach writing, and give you the encouragement you need.


Go to Homeschool Writing from How to Teach Writing

Go to Homeschooling-ideas Home from How to Teach Writing