Polar Exloration - Arctic and Antarctic for Kids
Polar Lesson Plan and Unit Study
Another weeks unit study for the
Smorgasbord free homeschool curriculum
.
This time we do a little Polar exploration!
This is a massive topic and I have actually outlined 6 days of study for you so you can mix and match a little. There are several outcomes - but mainly we will be planning a polar expedition and looking at historic expeditions.
Preparation
Decide which days you would like to cover.
Lesson Plan
Day 1 - Arctic vs Antarctica
Today we will be finding out about the polar environments and finding out the differences between the arctic and the antarctic.
Here are some research questions to ask the children:
Where are the Arctic and Antarctic on your glbe?.
Where are the North and South poles?
What is the difference between magetic poles and geographical poles? How would you kow if you reached either point?
What are the environments like in each place? What animals would you find?
Activities
Make a venn diagram showing the differences between the two polar environments.
Make a compass or use sticks to find north and south. There is a good explanation of how to do this here.
Make a cross staff.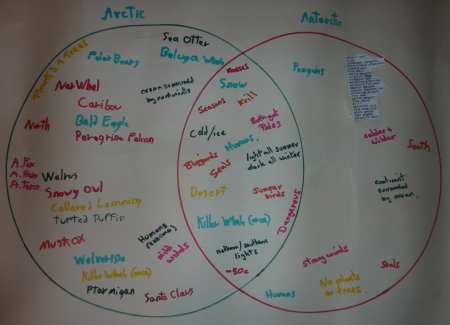 Day 2 - Find out all about the Antarctic geography, wildlife and environment.
We are going to plan a trip to the Antarctic so we need to know what difficulties we will face. Today we will find out more about the antarctic geography, wildlife and environment.
Questions to ask:
What is the geography and wildlife like here?
When are the different seasons? What is the weather, temperature and wind speed at different times of the year>
Who owns the Antarctic?
Hint: There are two good sites all about the Antarctica
here
and
here
How could you travel to the South pole?
Activities
Make a Make a lapbook about Antarctica with your findings.
Take a look at the antarctic through a webcam.
Today is a good day to do some experiments on the freezing properties of ice. You will find some nice ones here.
Day 3 - Planning an Expedition.
We are going to start planning our expedition to the South Pole! Today we will plan what clothing and food to take - and look at how to keep warm. We looked at some thermal images to see which body parts it was most important to protect. You might also want to read
this
about survival in these conditions. Then we went shopping! Smaller children could make a colorful catalog of things they needed with pictures and prices. We used the opportunity to do learn how to add up our list in a spreadsheet.
Activities
Make up a list of supplies and calculate the cost of your expedition. We 'shopped' at Snowsled and Ice-Warrier.
Lots of food would spoil in these conditions. Try freezing apple slices - then making dehydrated apple rings in the oven and freezing them too. Which would you rather eat when defrosted?
Point out how difficult it is to plan this type of expedition - especially if you weren't able to get on the internet and order it! Remember, if you go without something it will be difficult to buy it later.
Day 4 - Planning Day 2
If your children are enjoying the planning then spend another day looking at this further. What medical supplies and medical training are you going to need on a trip like this? We looked at:
Navigation skills
Getting around while we were there - transport.
Communication - how will we stay in touch?
Camp skills - what camping and survival skills will we need?
Day 5 - Historic Expeditions
Having seen how difficult it was to plan an expedition, we now added to our lapbooks with information about historic explorers to the South pole. Research the adventures of Admiral Perry and Ernest Shackleton.
Day 6 - Discoveries and Design
If you are feeling the need for a lighter day, then here are two arts ideas.
Design a new research station. There is an outline plan of this activity on this site.
Scientists have discovered the site of a huge underground lake in the Antarctic. This is one of the last unexplored places on earth. You can read about it here. What will scientist discover when they investigate? New life forms maybe? Draw an imaginative picture of the new life and habitat they may discover under the ice.

More about the Smorgasbord free homeschool curriculum
.
Got a resource or idea to expand this page? Add it below.