Time Lapse Photography
How to Make a Time Lapse Video
Ever wondered what to do with that old webcam you have lying about? Why not have a go at making a time lapse film?
Time Lapse Photography is really easy to do, and doesn't need to cost you anything. 
There are lots of different topics you could cover and and it even involves some math! We have even made a time lapse of us doing another homeschool project!
This beginners guide will get you started with everything you need to know to try this homeschooling project. 
What is Time Lapse Photography
Time Lapse is a type of photography where you shoot the same subject over a period of time. When the photographs are strung together into a film, it effectively 'speeds up' time.
Here is an example of a candle burning that we made as part of our homeschooling.
You can see that the candle seems to burn very quickly - when in fact we took the photographs over a period of about 5 hours.
Assemble your equipment - you need a webcam that can be attached to your PC - or a digital camera that has an option to take time lapse photos. You will also need to have some kind of tripod - if you don't have one try taping the webcam to a tall lamp or chair.
Download software for time lapse photography - you will need software to tell the webcam when to take photographs. This will automate everything so that you don't have to stand over it taking photographs for several hours! There are several software options that I explain on my time lapse software page. Don't worry - you can try it for free.
Decide on your topic - There are lots of different homeschooling opportunities you can try with this. Here are some time lapse photography ideas.
Do the Math - Well, it is a homeschooling project!!


Firstly decide how long you would like your film to be, and multiply that by the number of photographs per second you will use in the film (we used 14 per second for playback but people usually use 30 per second). So a 1 minute film will use 840 photographs.

Next estimate how long your 'event' will last. Our candle burnt for 5 hours. Divide the number of minutes of the event (300 minutes) by the number of photographs (840) to find out how often you need to take a photograph.

Our calculation (300/840) told us we needed to set the software up to take a photograph every 30 seconds.

If your children are young then 'trial and error' works fine too! Just give it a go and tweak until you are getting the results you want.

Get set up - it is best to have the webcam set up in a place where it will not be disturbed for the length of the project - unless you want people in your film. Don't forget to make sure your PC will not turn itself off (or go into standby) if it is left unattended for a while.

It is worth doing a trial run to begin with and check the results. Initially, we tried filming our candle every 9 seconds - but that wasn't enough of a lag between pictures. You have to get a good balance between how often you shoot the pictures and producing enough photos for your film.
That is it! Leave the PC taking the time lapse photos, and when it is done review your film
.
If you had fun, why not try
making an animation
, or other
photography projects for kids
.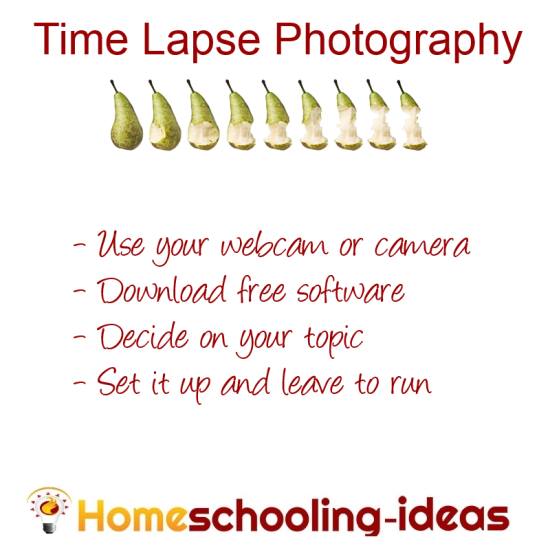 Homeschooling-Ideas Home

›
Home School Ideas
›
Time Lapse Photography