Yarn Bombing
Knit Graffiti for Homeschooled Teens
Yarn bombing (or guerrilla knitting) is a type of street art that uses yarn or fibre to make knitted or crocheted grafitti 'tags'. 
Brighten up your landscape with some colorful wool-yness!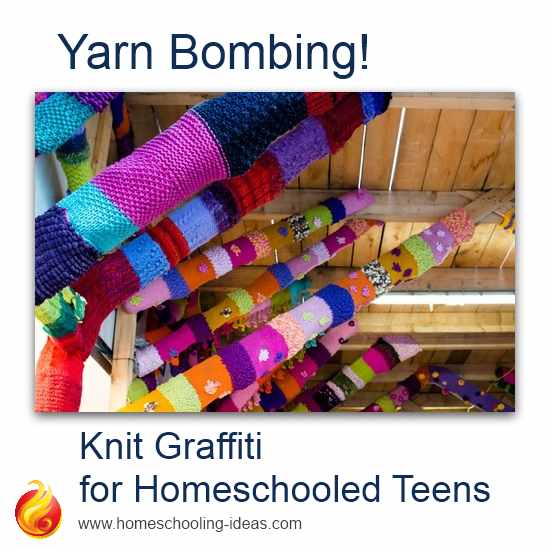 First the bad news...
Yarn bombing is technically vandalism in a lot of States and other places - and is therefore illegal. However, because the tags can easily be removed, artists are not usually prosecuted. 
Now, I obviously don't want to incite people to break the law. Please check the legal position for your area - or keep your tags on your own property. Try knitting graffiti for your own yard or asking permission from the property owner first. You could even yarn bomb a piece of your own furniture. 
Knitted Graffiti
Yarn bombing is a type of graffiti used by fibre artists. It can be a political statement - or just a fun way of brightening up urban areas. 
This could make a fun project for your anarchist teen! Particularly if you research the social history of graffiti and street art as part of your project. Take a look at books like Wall and Piece for some ideas.
It usually involves knitting a bright and colorful cover for an urban feature - and stitching it into place. Knitted tags turn up in lots of cities and there are groups that work together. Usually when a tag is left, it is labeled by the creator. 
You could work alone or form a group. Part of the fun of tagging is working with like-minded friends.
This doesn't have to be a female only project! Street art is an historically male area - and there are several famous male knitters! 
Getting Started
You need to decide on the target of your project - and whether you will knit, crochet or stitch your tag. 
If you don't know how to knit, then finger knitting is an easy version. 
Think about what you want your graffiti to say. Do you want it to make people smile? Or will it have a political message. Choose your pattern and textiles to match your aims. 
You will need to take some measurements to decide how big your finished textile piece should be. Often the pieces are simple rectangles that are stitched into place. If you are knitting or crocheting it is best to make the tag smaller than it needs to be - the yarn will stretch and it will stay in place better when attached.
You don't have to stop at just knitting the tag. You can make it multimedia by adding buttons, beads, some embroidery or badges to it. Make it as crazy as you like.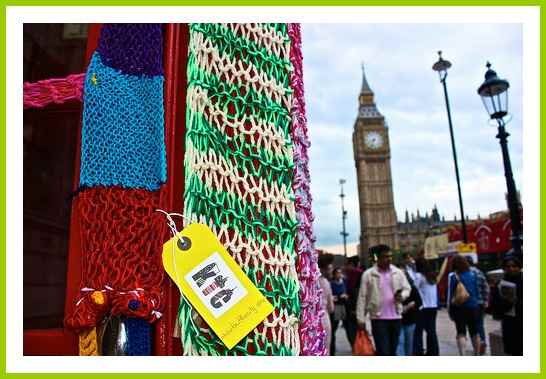 Find out more
Want to find out a bit more about this cool street art?  Here are some resources to get you started.
Books
Patterns
While guerrilla knitting is usually more freestyle, there are some patterns available to get you started.
Groups and Sites
I hope you have a lot of fun trying this cool art! Don't forget to take some pictures and post them on my Facebook page. I would love to see them.

Get more Homeschooling Ideas
Go to Homeschooling-Ideas Home Page