Design a Skyscraper
Homeschooling Project Idea
Ever thought about getting your kids to design a skyscraper? This is a great project that is quick and easy to set up - but makes for a great learning situation.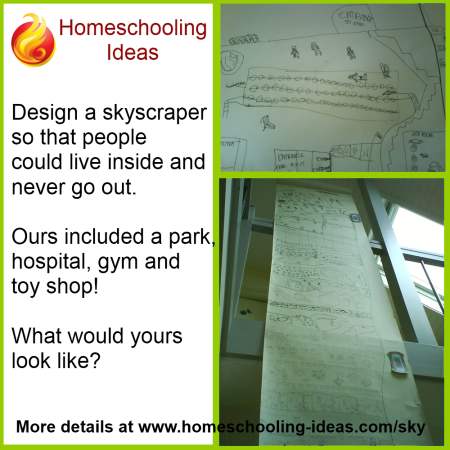 This project was sparked by the book Doing the Days (this is a great book for journaling projects!).
The entry for September 3rd says..
"On this day in 1865, Louis Henry Sullivan was born in Boston, Massachusetts. He was an architect who was famous for the way he designed office buildings. Sullivan was one of the first architects to design tall sky-scrapers with iron frames and straight lines."
We got chatting about Louis Henry Sullivan and how he would have been amazed at the skyscrapers of today. And how some of those bulildings are so huge, that people could probably live their whole lives inside them and never come out!
Of course - the children then decided to design a skyscraper that could contain everything a person needed. One roll of wallpaper and some felt tips later, they began!!
This was a fun project to do and involved lots of discussions about design, human lives and what they need, history and even geography.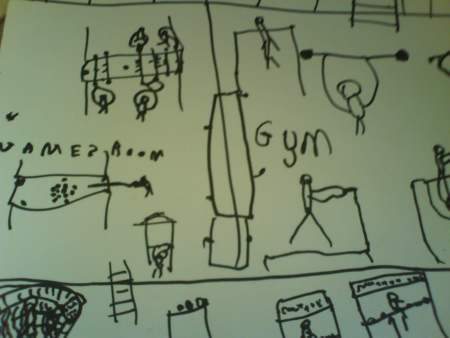 Here are some ideas to help you grow your project even more.
Take a look at some of the biggest skyscrapers today and mark them on a map.
Look at the history of skyscrapers. The first skyscraper is considered to be the Home Insurance Building in Chicago. Why not add this to your homeschool timeline.
Since the early skyscrapers, materials and construction techniques have changed enormously. After studying this, why not try building your own constructions with straws, paper or other materials. Who can build the highest? What techniques do you need to use?
Design played a big part in our wallpaper skyscraper. We thought about how people would move around the building (elevators? shafts for helicopters?). We made a list of everything we thought people would need - and then tried to design the building so that the most popular things (shops, doctors, and so on) would be nearer to the living areas. Ask your children where people will work, what will they do when they have free time. Will there be schools? Are pets allowed? Where could they walk their dog or ride a horse?
We had a lot of fun with this - amazing what things will spark a child's imagination. If your children enjoy trying to design a skyscraper - then try out these other invention ideas too!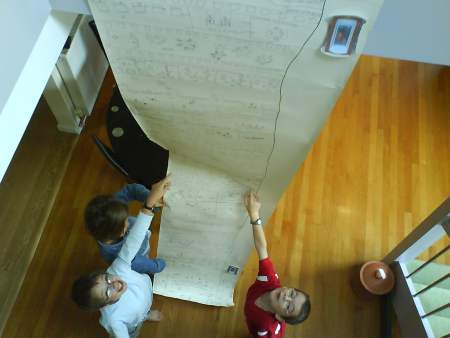 Homeschool High School

This project can be just as interesting for older children. They might not be interested in drawing on wallpaper - so how about using this free Skyscraper 3D building simulator?
I think teens could take this project to a whole new level (pun intended!!). Have a look at these 35 Futuristic Skyscraper designs for inspiration.

Go to Homeschooling-Ideas Home Page from design a skyscraper.
More Homeschooling ideas