Geography Activities
How to travel the world without leaving home!
This is one of my favorite geography activities! It's a great way to cover homeschool geography. 
To start, make some pictures of your children with a background of a famous place or landmark.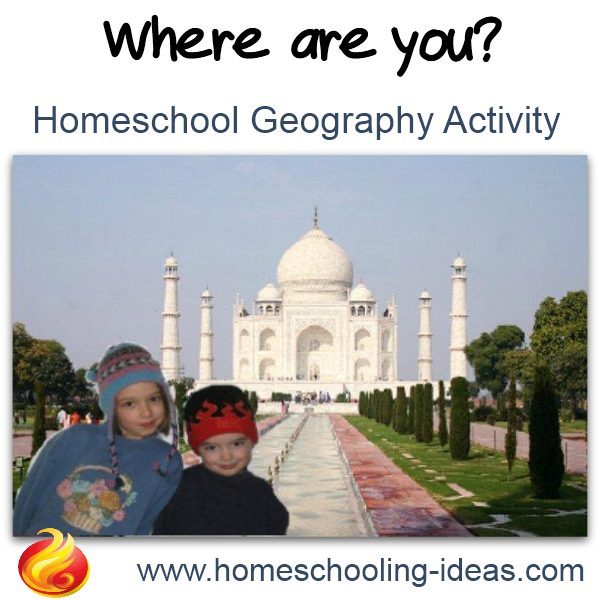 There are two ways you can make the picture -
Find a photograph of the place you 'want to visit' and use free online photograph software to merge the background with a picture of your children. You need to be quite technical to do it this way.
Make a paper collage. Use travel magazines as backgrounds and paste on photographs of the children.
You can get really creative with this. Going to Everest? Why not add pictures of equipment they need, and a picture of Sir Edmund Hillary and Tenzing Norgay to act as guides? This could actually be a fun activity to involve the children in.
Home School Ideas
So what do you do with your images once you have made them?
Pin them to your noticeboard or fridge – and see how long it takes them to ask questions about 'where they are'. If you vary the photo every couple of weeks it can spark some great conversations about world places.
Print or scan the picture to a postcard and send it to the children in the mail, with some notes about what they are doing in that part of the world. This also works well for younger children if you use a picture of the child's favourite cuddly toy 'visiting' the landmark.
Use the picture in your 'travel journal'. We created one for our Around the World in 80 Days project.
Use the picture as a background on your PC. This is another nice low-key way of strewing, and is bound to get them asking questions.
Stick several of the pictures on a large world map poster.
Make a card game out of the pictures.
Play a guessing game. See if they can research where in the world they are. 
I have found this a really great way of covering kids geography. It's low key - but seeing themselves in the photos really seems to ignite their curiosity.
Homeschooling-Ideas

›
Homeschool Geography
› Geography Activities