Help! How can I convince my husband to homeschool?
by Cath
(Bristol UK)
Hi Julie

I LOVE your site and follow you on FB too... Now it's my turn to ask you a question, well, an advice.

I am home educating (more unschooling, actually) my 8 years old, and my 5 years old just started reception this year. I would love to home educate him as well, but my husband thinks it's better if he stays in school.

To make a long story short, we took our eldest last year after a lot of bullying and some mistakes by the school (the same one our 2nd son is attending now).

I tried to give some books to my husband, but he doesn't want to read an entire book (I tried John Holt)...
I tried to direct him towards websites as well...
Well, I cannot convince him... but I know that my 5 years old would be better at home and life would be easier as well (no more interrupting the activities and groups we're joining to do the school run).

My husband says kids learn better in school and that they need to have friends. I think he's scared that they will miss something if they don't follow the curriculum. He also said that the earlier you learn things the better in his opinion (which I doubt, really ! depends if you are ready or not !)...

I am a bit desperate...

Thanks for your help...
Cath
french mum of 3 wonderful boys




Hi Cath
Hmm... Tricky one!
If it is any consolation, then my husband was opposed to homeschooling in the beginning too. But it was a John Holt book that swayed him.
I came up with some different ideas for you to try!
Firstly - try to figure out exactly what the problem is for him. Is he really worried about your sons education? Or is he more worried what people will think? If you get to the root of the problem then that may present ideas for how to convince him to homeschool.
Ask him to be more specific about why he wants your son to be at school. You said he thinks the earlier they learn things the better. Is there a way you can help him understand that children learn faster and better when they are happy and interested?
What is your husbands learning style? Just like teaching our kids, our partners have a method they learn better using. Is is visual - videos or TV? Audio? Or does he need to actively do something to learn from it? Perhaps providing homeschooling information in that format instead of books will help.
EO video channel
is good for videos - or get him involved in teaching your older son. Perhaps he would agree to look at evidence for homeschooling if it was presented in a form he was more comfortable with.
As a last resort you could try an ultimatum! Tell him you ARE going to take your son out of school unless HE provides you with evidence that
homeschooling is a bad idea
. This puts the ball in his court. You know your husband better than me as to whether this approach would back-fire! Will he go all out to find reasons why your son should stay in school? Or will inertia do it's job?
Other than that, try a drip feed approach! Think of it as brainwashing him! Tell him you are doing serious research into homeschooling and keep reading him 'interesting snippets' from homeschool books, have videos playing aloud when he is around. Play podcasts or audiobooks about homeschooling so he can hear. (If you have a kindle or ipad then they both have a way of 'reading aloud' any book on them. There are probably ways to get websites read aloud on the PC too). Don't try to convince him yourself - just keep letting him subconsciously hear lots of good stuff about homeschooling. There is some good research about homeschooling on the
hslda
website (especially
this page
- and also the
National Home Education Research Institute
.
He may also feel you are 'a bit weird' homeschooling. So fill your home with interesting homeschoolers - Dads especially if you can find them! So your husband comes to realize it is more normal than he thought.
I am sure your 8 year old is coming on in leaps and bounds, and so you have a perfect example of the
benefits of homeschooling
right there at home. Maybe that will work its magic over time!
Good luck. It may take some time to convince him about homeschooling, but I hope he comes round eventually.
best wishes, Julie
PS - And thank you for the kind words about my site!
Got an idea to help Cath? How did you persuade your husband to homeschool? Leave a comment below.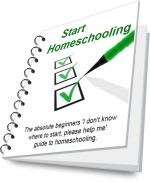 How to Start Homeschooling


FREE Workbook and 7 Day Course

Go to
Homeschooling Help from Help! How can I convince my husband to homeschool?
.
Go to
Homeschooling-ideas Home from Help! How can I convince my husband to homeschool?
.