Home Schooling Science and Nature
The Seasons Tree Project
Home
>>
Home School Ideas
>> The Tree Project
In our home schooling science I wanted to help the children get a feel for the passing of the seasons. So we came up with a beautiful nature craft idea, that we call
'The Tree'
We 'dress' our tree as the seasons change - bringing us closer to nature - and decorating our home!
The idea of the tree is to find a stick or twig that has the shape of the tree. We chose quite a large one (probably too large!!) but any size will do.
As the seasons change we decorate our tree to reflect the season.
Nature Crafts for Kids
This becomes a ritual that welcomes in the new seasons, and gives the children a feel for the passing of time.

The tree has become part of our life - and our home - reflecting the season outside.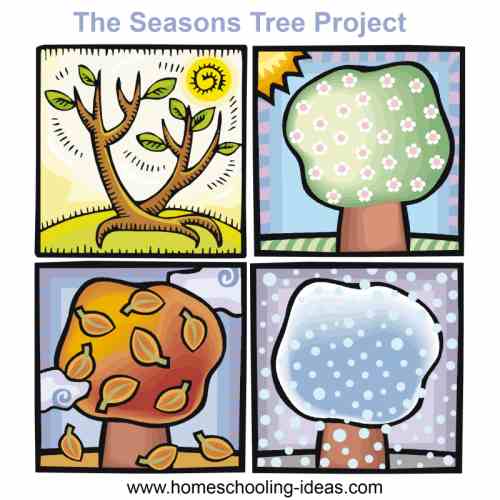 Our tree has had several seasons now, and it is fun to think of new ideas to 'dress' our tree with. As we like to re-use our tree we generally tie the decorations to it - but you could glue them on. You could then make separate trees for each season, and display them together.
Homeschool Ideas
Spring
Make tiny blossoms by rolling up small pieces of tissue paper and gluing them to string. Tie the strings to the tree.

Make tiny green buds by rolling up small pieces of tissue paper and gluing them to the tree.

Make tiny green buds by rolling up small pieces of tissue paper and gluing them to the tree.

As spring is showery, tie thin strips of blue tissue paper (to represent rain) to the tree. Add some decorated umbrella shapes, or cocktail umbrellas.

Make an easter tree and hang your decorated eggs from the branches.
Summer
Make butterflies and birds to decorate your tree.
If you have been to the beach collect small shells to hand from the branches.
Cut out summer vacation shapes - buckets, spades, deckchairs and sunglasses.

Make your own
Tie-Dyed Leaves
with easy directions and pictures from
busybeekidscrafts.com
.
Fall
One year we cut out hand-prints and hung them as leaves
Make autumn fruits (apples, sweetcorn) cut-outs and hang them.
Hang glittery strips to represent fireworks.
Make a halloween tree and decorate with orange pumpkin and black cat shapes.


Winter
Make snowflake cut-outs and hang from the branches.
You could make frosted leaves by cutting leaf shapes and decorating them with silver-paint.
Cut out winter warmth shapes - hats, scarves and gloves - in bright colors.
Make a christmas tree and decorate with your favourite christmas crafts.



Not just for little kids, this project can be adapted to older children too.

 As they are more dexterous, you can make much more complicated tree decorations. And no need to stick to the seasons.

How about 1000 paper cranes to represent a Peace tree?

Or a gratitude tree decorated with all the things you are grateful for?

Another way to acknowledge the passing of the seasons with teenagers, is to make floral decorations instead. Learn to dry flowers in the summer and make wreaths in the winter. 

You could make a monthly floral decoration for your table - being as imaginative as you like!

Too tame? Why not try some seasonal vegetable carving instead?

Join me in the tree project
Would you like to join me in the tree project? I would love to see some pictures of your trees.
I will be adding timely season reminders about the tree project on
my Facebook page
- with extra ideas for decoration. Why not come and like me?
Your Trees
---
Many thanks to Heather for these great pictures of her family tree. I think the idea of a 'back to homeschool' tree is inspired! Can't wait to see next seasons.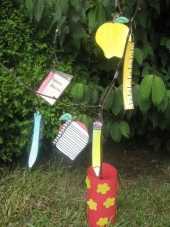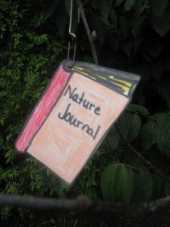 ---
Sophie and Archie's tree turned into a puppet show! 

I think this is one of the wonderful things about homeschooling - that one thing often leads to another and unexpected learning happens!

Thanks to Sophie for sharing their great project with us.

More Kids Craft Ideas
Return from Home Schooling Science to Homeschooling-ideas.com Home
More Homeschool Science