Homeschooling with Autism and Separation Anxiety
by Zoe
(Surrey, uk)
Question
Hi, I am looking at homeschooling. I have always wanted to but my husband has never been for it. Just lately things have been awful at the kids school, to the point where I no longer wish them to be there and so this has spurred me on to look at home schooling in more depth. I know nothing really at this point.

My husbands main sticking point is that our daughter is just turned 5 and may have Autism. She suffers with separation anxiety and has a very tight emotional bond with me. She can't always communicate with others (or us at times) and I feel that she would benefit immensely from being at home with me and learning in this fashion. My husband however thinks it will be the worst thing for her as she would have no need to practice being away from me and so would never learn the need to be away from me.

We have 3 other children too 7, 3, and 19m and so would be looking to home school all of them. We live in the uk.

Any advice/info would be gratefully received.
Kind regards

Zoe
x



Answer
Hi Zoe. Thank you for the question.
In researching separation anxiety for you, almost all the sites I looked at (like
this one
) advocated practising separation, or worse, medicating - so I can see where your husband is coming from. But I can't help thinking that children react better to kindness and love than to being 'toughened up'. If you wanted to harden off a seedling before putting it into the garden - you don't plant it straight outside and let it cope. It may survive - but the chances are that it would not grow well. Instead, you would tend the seedling and nurture it. Then, when it had grown strong enough, you would slowly acclimatize it to the harsher conditions outdoors. Only then would you have a strong and healthy plant that could be safely planted out.
I think it may be helpful for you to get hold of Mike Fortune-Wood's book
Can't Go, Won't Go
which presents an alternative approach to 'school refusal' - I think that much in the book may apply to your situation.
If you think the way forward for you may be homeschooling, then I would recommend you join the
Home Education Special
mailing list. They will be able to help you with your concerns about Autism and separation anxiety, and I feel sure that there will be people there who have faced the same challenges as you and would be happy to share their experiences with you.
If you want to read more about homeschooling then here is somewhere to start :
Start Homeschooling
How to Homeschool
Homeschool Socialization
How to Get Started Homeschooling
Also, a great book to start with would be
Free Range Education
(your library should have it).
Homeschooling is an option that is working very well for other families in the UK (including us!). I am not sure where in Surrey you are, but there is a group in
South West Surrey
that should be able to point you in the right direction. Most groups are happy to share how homeschooling is working for them.
I hope that gives you somewhere to start. Do come back if you have more questions and I will try to help. I hope everything works out well for you.
Best wishes, Julie.

Go to
Homeschooling Help from Homeschooling with Autism and Separation Anxiety
.
Go to
Homeschooling-ideas Home from Homeschooling with Autism and Separation Anxiety
.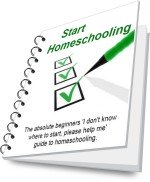 How to Start Homeschooling


FREE Workbook and 7 Day Course