How can I help my son catch up?
by L.
(United States)
Question: My son was out of school for the last quarter of this year.

Due to his papa my Dad had a stroke and a heart attack he was on life support and almost died. My Dad lives in CA and we live in IA so I pulled my son out of school and we went to CA. We were only supposed to be gone for a week but we are still in ca 2 months later.

So his school says he has to repeat the sixth grade, my son is a mostly 'A' student with a couple of 'B's. What I want to try to do is get him caught up this summer so he can be ready for 7th grade.

CAN YOU HELP PLEASE!!




Answer
: Hi L.
Sorry to hear about your Dad.
I think you need to find out from the school what he needs to cover/has missed for sixth grade. And also what they would require from you (in terms of proof or assesments) to get him placed in the 7th grade.
I am in the UK, so not really sure what work gets covered in 6th grade – or what the best textbooks etc. would be. But I am sure one of my readers will be able to point you in the right direction.
best wishes, Julie.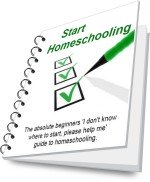 How to Start Homeschooling


FREE Workbook and 7 Day Course