How do I Start Homschooling in Iowa
by Jeannie Tratchel
(Newton,Iowa)
Question
My son is in 4th grade and really struggles with friends and I dont like the public school system.

I want to homeschool my kids but dont know how to go about getting started.

If I pull my kids out of school how do I contact someone to start homeschooling here at home? What are all the steps I need to do? thanks




Answer
Hi Jeannie
There are 3 steps you need to take to start homeschooling.
First you must figure out the homeschool requirements for Iowa. I have a free workbook with a checklist to help you understand the requirements in your state :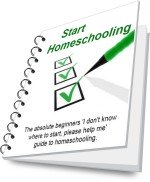 How to Start Homeschooling

FREE Workbook and 7 Day Course
To get you started, I took a look at the requirements for you - but please check them yourself and do NOT rely on my notes.
Get Iowa Homeschooling Requirements
The second step you need to do is to find other homeschoolers near to you. They will help you to understand the requirements and can talk to you about how they do things. The workbook above will show you how to get in touch with them.
Finally, you need to decide HOW you would like to homeschool. There are a lot of options about how you approach things. Do you want to do textbooks or a
homeschool curriculum
? Or would you like to take a more project based approach like my
homeschool ideas
?
Read everything you can about homeschooling (I have put some links underneath here). Ask around. You will soon figure out what method appeals to you.
Further Reading
Start Homeschooling
How to Homeschool
Can I do Homeschooling?
Deschooling
Homeschooling Goals
How many hours to Homeschool?
Do I need a Curriculum?
How to Homeschool FAQ
How to Homeschool in 3 Steps
Getting Started with Homeschooling
Homeschooling for Beginners
How to Get Started
Go to
Homeschooling Help from How do I Start Homschooling in Iowa
.
Go to
Homeschooling-ideas Home from How do I Start Homschooling in Iowa
.