Temporary Homeschooling While Moving
I was wondering if you could tell me if it's possible to temporarily home school my kids?

We are moving and there is only 2 months left in the school year. Is it possible for me to home school them for the last 2 months and then transfer them to the new school at the start of next year? Any info you can give me would be greatly appreciated.

Thank you so much, Amy





hi Amy
I can't see any reason why not - and it would make a lot of sense to me.
You would need to comply with the homeschooling laws or regulations of wherever you are living at the time you want to homeschool them. If you are not sure how to find this out, then do sign up for my free ebook to talk you through the process - you can find it on my
how to start homeschooling
page.
Because you intend for the children to go back to school quite quickly, you may want to find out from the school what they would be covering in the last 2 months. Then you could either use textbooks to cover these subjects - or be more relaxed and study things through projects.
Alternatively you could use the time to do some
deschooling
. This would help to give them back any love of learning they may have lost - and I think they would restart school feelig rejuvenated. But don't forget to do a little
strewing
along the way.
I am sure they will learn a lot outside of school however you decide to approach things.
I hope you enjoy your months as a homeschooler - and your move goes smoothly!
best wishes, Julie.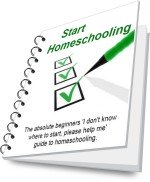 Go to
Homeschooling Help from Temporary Homeschooling While Moving
.
Go to
Homeschooling-ideas Home from Temporary Homeschooling While Moving
.
Start Homeschooling
How to Homeschool
Can I do Homeschooling?
Homeschool Socialization
Homeschooling Goals
How many hours to Homeschool?
Do I need a Curriculum?
How to Homeschool FAQ
How to Homeschool in 3 Steps
Getting Started with Homeschooling
Homeschooling for Beginners
How to Get Started