Where can I meet other Home Schoolers
by khelouda
(uk)
Question
Hi I've been home ed for three months and so far have not met any other homeschoolers in my area.

I would like the oppertunity to meet with other home educaters for ideas exchange and social interaction for the children - my children do go to parks museums, sea side skating etc. so they are interacting with other people but is it enough ?




Answer
Hi Khelouda
A big welcome to home schooling. I hope that you all really enjoy it.
Your children sound like they are getting plenty of social interaction - but it can feel quite lonely until you have found a social group of homeschoolers to meet up with.
It can take some time to find other homeschoolers in your area, but there are usually some around. I certainly thought I would be the only one in my area - and then I found out there were lots of us. You just need to do a bit of detective work to find people.
Start by asking your local library as they often keep details of groups. Search for 'home education' with your area to see what comes up on Google (ie. search Home Education Nottingham).
Education Otherwise have lists of groups by area, and there are often Facebook pages too.
Good luck! Keep asking around - once you find one person then you can normally tap into others and then find groups.
best wishes, Julie.
Go to
Homeschooling Help from Where can I meet other Home Schoolers
.
Go to
Homeschooling-ideas Home from Where can I meet other Home Schoolers
.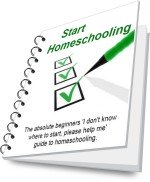 How to Start Homeschooling


FREE Workbook and Email Course