Homeschool Timeline Templates and Resources
Home >> Ideas >> Timelines >> Homeschool Timeline Template
Looking for an easy way to make your own timeline? Here are some great free printable resources to get you started.
When you are looking to make a timeline at home then you probably don't want to reinvent the wheel and start from scratch. Not when there are so many fantastic templates and resources available to you.
I wanted to share with you some great printables - templates you can use, figures for your timeline - and of course some history information.
Everything you need in one place!
Homeschool Timeline Template
These free prinable templates allow you to print out your timeline and get started straight away.
Timeline Idea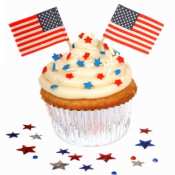 Celebrate an event in history with these printable cupcake flags then add them to your timeline.

Printable Timeline Figures
History Information
Need some history ideas for your timelines? Try these.
Ready to make a timeline?
Lots of ideas on how to make a timeline.
Tips and hints on homeschool timelines.


Still looking for ways to study history?

History is a wonderful subject to study with the righthomeschool history resources.
Enjoy Unit Studies?

Try these homeschool unit studies.
Leave Homeschool Timeline Templates for Homeschooling-ideas Home