How to Keep Homeschool
and Life in Balance
Home
>>
Home School Information
>> Homeschool Balance
Thinking about how to keep homeschool and life in balance?
Homeschooling Moms often say that homeschooling is a lifestyle.
But sometimes if can feel more as if life has been swallowed up by homeschooling!
When our homeschooling is overwhelming it can lead to
homeschool burnout
.
It is time to take control of your homeschooling - and get a life!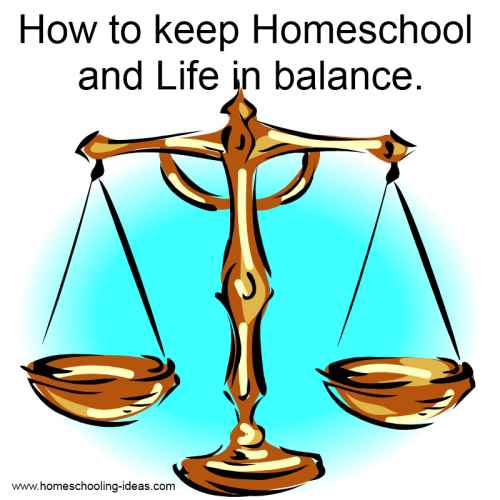 1. Vent!
When you feel your life is out of balance, then
one of the best things you can do for yourself is start a journal
. Not a 'today we went to a homeschool group' type of journal - but a private space where you can vent about ANYTHING! There is no right or wrong way to journal. Just get down on paper everything that is on your mind.
There are many documented benefits of journaling (
Journal to the Self by Kathleen Adams
is a good read), but they are good at giving a
sense of perspective
. A journal will help to control that 'scattered' feeling and help you clarify your thoughts.
Use your journal to figure out what is REALLY important to you
. And how you really want your life to look.
If you don't know where to start in regaining a balanced life - then a journal can show you the way.
2. Review the Current Situation
Once you have vented some of your frustrations in your journal, it is time to review your current situation. Balancing life generally falls into 3 main areas - homeschool, chores, and personal time - although you may need to add other categories such as health, spiritual time, or business.
You often don't need to set up the same physical amount of time for each area you wish to balance every day. You may find half an hour to yourself, twice a week, restores your energy levels and helps you feel better.
Let's take a look at the 3 main areas.
Homeschool Scheduling
How is your homeschool schedule working.
Are you over scheduling?
If so, you need to re-work it to get a better balance;
Set an overall goal, or theme. Do your homeschooling activities reflect what you want to be happening? Adjust your schedule to match.
Don't fall into the trap of being busy just for the sake of 'busyness'. Does your child really need that worksheet? Or are you just not sure what else you could be doing?

When deciding how to keep homeschool and life in balance, you need to be ruthless in examining what you are currently doing. Drop unnecessary activities to make room for things you would like to be doing. If you are not sure how to simplify your homeschooling, then why not try one hour homeschooling for a few weeks? It can give you a lot of insight into what you think is important to teach.
Aim for Self Directed Learning. Keep in mind that you want your children to be independent learners. Resist the temptation to constantly 'help' them. Slowly release the reins and let them take more responsibility for themselves, and for their work. Can they correct their work by looking up answers themselves? Can they Google how to do something they are struggling with. Again, this might not help much if they are still young, but sow the seeds now to reap in the future.
Chores and Household Management
This is a big time suck! Try to streamline the chores you need to do. For example, I do a quick tidy round every day - but I leave most of my chores until Friday. We call it 'Tidy Up Day!' By batching up, I can be more efficient and am normally through by lunchtime. If you prefer a more regular schedule then try
Flylady
.
Streamline your cooking process too. I make a lot of use of my crockpot - but batch cooking for your freezer helps too.
Personal Time
I know this seems virtually impossible when the children are small, but it is important. A happy Mom makes everyone's life nicer!
Make time for yourself. If everything seems to revolve around homeschooling then it especially important to carve a chunk of time for yourself and insist on no distractions. It is ok to say 'No' sometimes.
Set a good example. Often the things that we WANT to be doing are the best things for our children to see us doing. Show them that it is good to read a book, or meditate, or take time for a hobby.
A really good idea I picked up from
Refuse to Choose! by Barbara Sher
is to set up what she calls an Avocation Station. Make an area where your hobby is easily accessible with everything to hand. Use a toolbox, or something like this
Wheeled Storage Cart
to keep everything together. The idea is that even if you only have 5 minutes, you will be able to do some work on your hobby without having to look for things or 'get it ready'. This would work for all sorts of things. What do you need? 5 minutes of exercise? 5 minute meditations?
3. Move forward and Plan for the Future
Taking some time to get a better balance in your life will pay dividends in your homeschooling
. And is well worth the investment.
Once you have identified what needs to be done for you to feel more balanced, then set things up to make this easy for yourself in the future. How about scheduling a set time when the neighbor has the children for an hour? Can you arrange a monthly batch cooking event with your friends?
Keep track of how you are doing. One set of planner forms I really like is this
day grid balancer
. This really helps you keep on target and see where you might be sliding.
Recognise also, that this is merely a stage in your life. Your children will grow and become more independent. And leave you more time to grow the parts of you that you wish to develop.
Enjoy this stage now - and lay the foundations of a better future.
Learning how to keep homeschool and life in balance is different for everyone.
I wish you well in your journey
.
Leave 'How to keep homeschool and life in Balance' and go to Home Page
Return to Home School Information