Journaling For Kids
Journaling for kids isn't just about writing what you did yesterday. 
One of the kindest things you can do for your children in homeschooling is to show them that journals can be for self-exploration and freedom of expression.
There are some wonderful benefits to journaling that apply to both adults and children. Let's take a look at what they are - and how to get started with your own journaling project.
Keeping a journal doesn't necessarily mean just writing about things that happened to you - that's more of a kids diary. 

Instead you can write about your thoughts and feelings, or work through a problem you may be having
.
So what are the benefits of Journaling, and how should you get started with your children?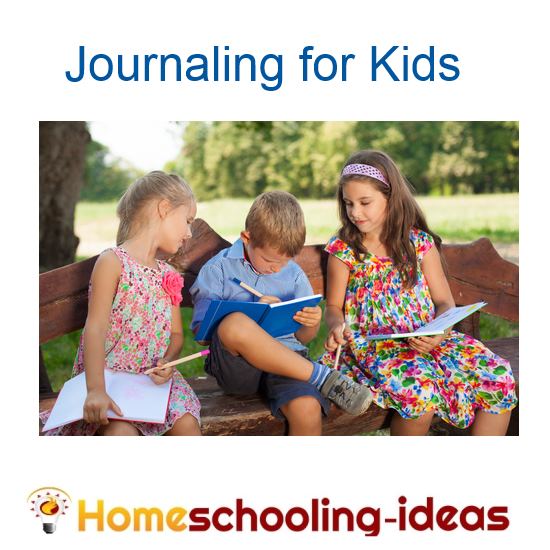 I got into journaling
(although I had always journaled a little) after reading The Artists Way by Julia Cameron.
She advocates the use of morning pages - 3 pages to be written every morning. About absolutely anything that comes into your head. A lot comes into my head (most of it rubbish!) and I enjoyed having an outlet for it.
But it isn't easy to write with 2 toddlers 'helping'!
So I bought them journals too - and that began a rewarding journey for us.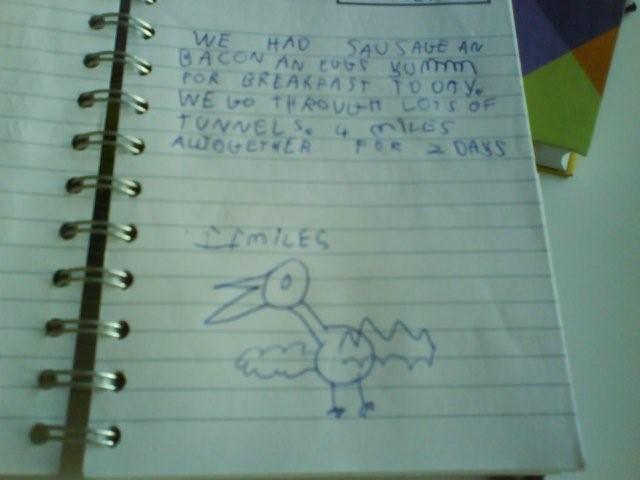 Of course, at first the children couldn't write (in any legible way!) - I supplied them with a large tub of stickers, pens and glitter sticks.
Sometimes we would paint or cut and paste straight into the books, or take them to the zoo with us to draw pictures of the animals (we still do that!!). I love to look back on those early journals - I think some of their little drawings may have been lost (or thrown out!) it they had been on separate pieces of paper, but in a little book they are a treasure.

'Free writing' whatever comes into your head has long been recognised as bringing great benefits to adults - and children can have all those same benefits too.


Benefits of Journaling for Kids
Journaling for kids is a wonderful way to open up new horizons.
A journal can be a friend, a confidant and a mentor.
You can use them to be creative, find out more about yourself, develop intuition and solve problems. By getting thoughts out of your head and down on paper, you can gain insights about yourself that you'd otherwise never see.
Journaling is a way to process and think things through very effectively - helping you to make decisions. It strengthens your sense of self and helps your realise your potential. It is a great way of clarifying goals and learning to trust yourself. And it gives your child a safe place to play around with their creativity and writing capabliities.
For me, journaling keeps me grounded and focused. Or even more theraputic - it gives me a place to have a really good moan!
For my children, it gives them a way to explore who they are now, and who they want to be.
Teaching children how to journal can be one of the greatest gifts they ever recieve.
Those empty blank pages can become a tool that will stand by your child in their darkest moments - and cheer them on during their triumphs
.
One of the easiest ways to introduce children to journaling is to begin yourself. When they see you scribbling away in a lovely blank notebook they are almost guaranteed to want one for themselves!
Encourage them straight away to use their journal as an expression of who they are, with felt pens, glitter sticks and a box of stickers
. Help them to see a journal as a place where they can draw, glue and paste, write freely or just make lists. This 'no rules' approach will help them get the most benefits. Let them use it as a place to write (or draw) memories, storys, wish lists, ideas and musings.
In her book The New Diary, Tristine Rainer encourages new journalists to "write fast, write everything, include everything, write from your feelings, write from your body, accept whatever comes."
I think children are naturally good at this anyway - so you only need to encourage this absence of rules!
Here are some top tips;
Keep it fun. Keeping a journal should be a fun and enjoyable activity. It isn't something we feel we 'have' to do every day. Take your journal out and about with you for when you feel you have something to say.
Get nice pens. Seriously. Biro's just don't write nicely. They are hard to push around the page and make your hand ache. Go to a stationery shop and let your children try out all the pens (we like gel pens). Then buy them a nice one.
Try out different books. My children have become extremly fond of certain types of notebooks (bound, no lines, hard-cover!). We have tried larger and smaller journals, spiral bound, thin paper. There is a lot of choice in notebooks, so let your children experiment.
Keep it private. To really get the benefit of journaling for kids, your children need to feel comfortable that they can write freely. If you think you won't be able to resist the temptation, then buy them a cash box with a lock to keep it in.
Journal for yourself - If you want your children to journal, then the best way to encourage them is to write (or draw in) one yourself. This would be a great activity to try if you have homeschool burnout. Journal to the Self
by Kathleen Adams, is filled with ideas of journals to keep, and different ways of journaling. She believes journaling is a therapy and a way to achieve greater self-awareness. A very interesting read.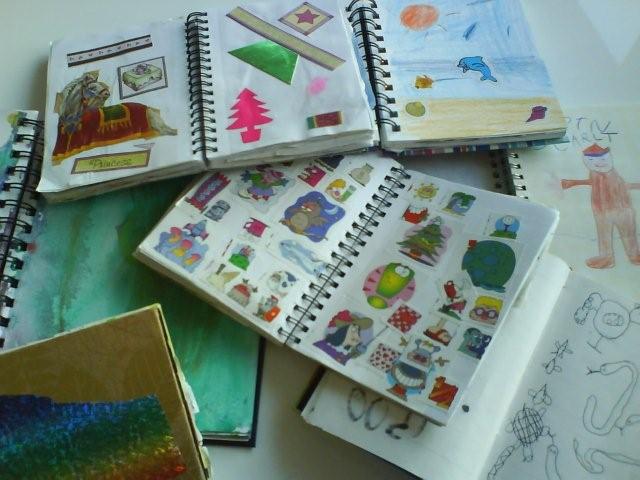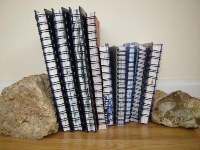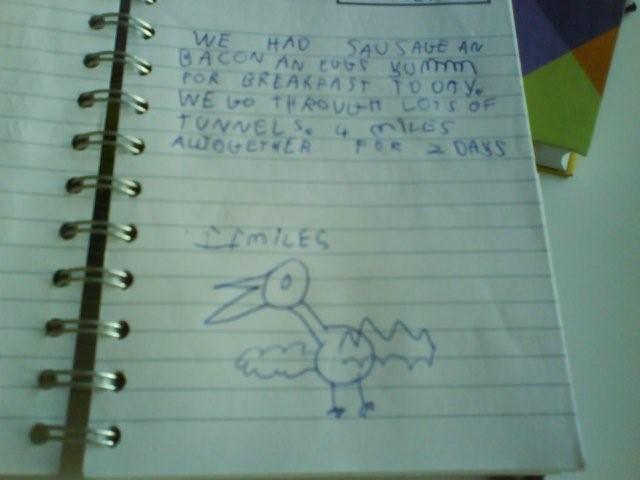 Now, the children use lots of journals for different things - holiday journals, book reviews, general drawing and painting, nature journals - there are so many ways of using journaling as writing projects for kids.
I hope they keep up the habit of keeping a journal as they get older. They have both recently set up their own blogs and enjoy uploading photographs of their artwork, but I still think there is something very wonderful about thinking with a pen in your hand!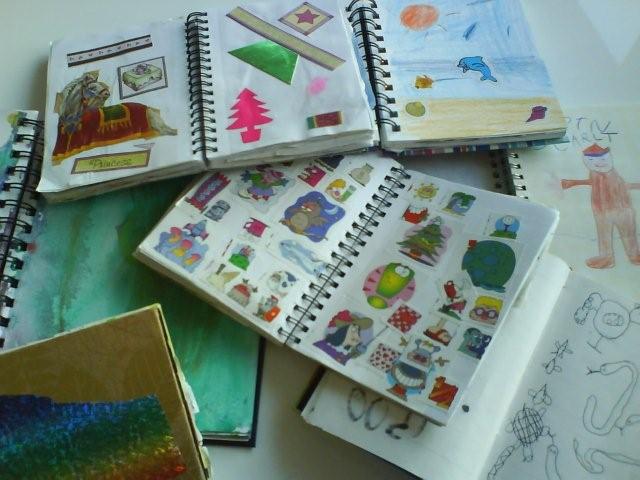 As your children get older you may like to introduce them to 'journaling tools' to help expand their writing awareness.

For example, one idea we have used was to make a list of 13 topics to cover (one topic a week, covered four times a year). We used each weeks topic as a 'theme' for journaling that particular week. So one week we may have the topic 'family' and another week 'dreams and goals' or 'kindness'. We ponder that weeks theme during our writing.

Another great way to explore journaling for kids is through journal writing prompts. These are questions or pictures that will 'prompt' them into writing about something new and different. Pictures especially can evoke quite strong emotions, and this is a great place to start in exploring your feelings about things.

If your children are visual, then why not try 'visual' or 'art' journaling. How can I do this justice in words? Here are some pictures!
Journal writing books for children
- I have recommended some books on my
Journal Books for Homeschooling
page. These would be great to use for finding writing prompts.
Homeschooling Ideas Daybook - another one of my creative writing activities for kids is an Ideas Daybook. Keep a track of all your study ideas and other creative notes.
Poetry - a great way to develop language skills and creativity would be to keep a poetry journal. Either copy your favourite verses, or write your own. Getting the children to illustrate a short verse on each page would create a wonderful keepsake.
Making books with children - free projects on bookmaking. Her blog is here and has lots of journaling ideas.
Famous journals - have a look at the Online notebooks of Blake and Leonardo da Vinci (among others). Very inspiring.

I hope I have inspired you to give journaling for kids a try.
Homeschooling Encouragement
I will finish with a story. One day my daughter showed me some scribble writing she had made in her journal. "Wonderful" I said, "What does it say?" "How would I know?" she said puzzled, "I can't read yet!!"

Homeschooling-Ideas › Homeschool Writing › Journaling for Kids