Journal Quilts - Quilt Journal Projects
Quilting small journals is a great homeschooling project that develops creativity and design skills. Find out what they are, and how to make them!
What are they?
Journal quilts are atttributed to quilter Jeanne Williamson, who wanted a way to find a way to give herself permission to make art, even though she had limited time. She decided to make one small quilt each week so that she could play and experiment with her creativity.
These small quilts (usually 8" by 10") allow you to try out new techniques or design ideas - and are usually made in a series over a period of time such as weekly or monthly.
Quilt Journals are great for homeschooling because they can be quite quick and easy to make (no struggling with bed sized amounts of fabric!) and can be used for all sorts of projects.
They only need small amounts of fabric and you don't need to be an expert at sewing
. You can glue or fuse your fabrics together to make your quilt - so it is easy enough for even small children to try.
Journal Quilts in Homeschooling
As well as an extra dimension to journaling for kids, you can use this project to develop
Math Skills - how about a series of math based quilts (tessellations, Fibonacci, geometry). Quilting itself uses a lot of math too!
Creativity and design skills - there is nothing like playing with textiles to make you feel creative! You could make a series of quilts based on artists - or choose your inspiration from nature.
History - how about a series of  historical quilts that you can use as a timeline. You could also use it as a way to study traditional quilt blocks and quilters. 
Self Expression - if you make each quilt as a representation of how you feel about something, it is a great way to chart emotions in a non verbal way.
How to Make a Journal Quilt
There is no right or wrong way to make these tiny quilts so feel free to break the rules! But I wanted to give you some guidance to get started.
Begin by making a small plain quilt that you will later embellish. Choose a piece of fabric for the surface of your quilt and cut it to size. You will also need some fabric for the back of your quilt, and some wadding to go between the two. Cut all three pieces to the same size.

You can either make up the quilt now by binding the three layers together - or wait until you have finished decorating the top.


Begin to decorate your quilt. There are lots of ways you can build up the design.

Add fabric cut to shapes. You can either stitch this down, use fabric glue or use fusible web (ask for bondaweb or wonderweb in your local craft store - this is the sort of thing you are looking for) to iron-fuse the fabrics together.
Use dyes to color and pattern your fabric.
Draw or paint on your fabric using permanent markers or fabric paints.
Stitch onto your fabric, or use beads and sequins to decorate it.
Use t-shirt transfer paper to transfer a printed design or photograph.
Use needlefelting with kids techniques to create a felted design.
Glue or stitch ribbons, lace, paper, metals or found objects onto your surface design. Remember - anything goes with journal quilting!
Make a yarn painting on fabric instead of wood to use as the top of your quilt.

Finish your quilt by layering the 3 pieces (top, backing fabric and wadding) together. You can join them with a binding around the edge - or just use a satin stitch to finish the edges. There is a free downloadable e-book available about different quilt finishing methods here.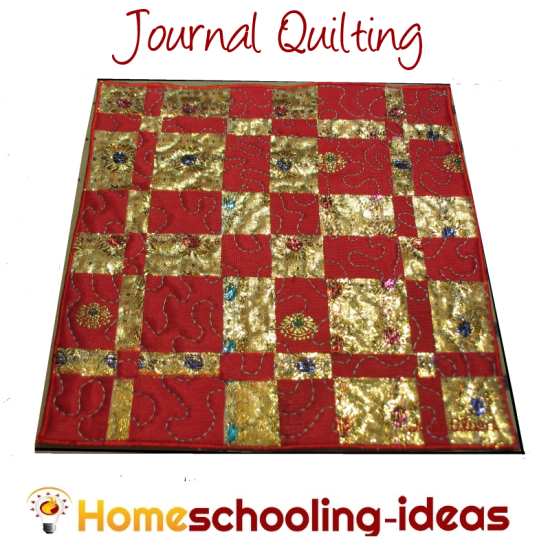 These little quilts can be a real asset to your homeschooling craft sessions. And are very fun to make!

These little quilts make a great project for teenagers - either to develop sewing skills or creativity and design skills. They would also make perfect samples in a portfolio for an artistic or textile based college course.
If you would like to study quilting, then there are some fantastic online courses available at the Quilt University. They even run a Journal Quilt course at certain times. I would also recommend the creative textile based courses (online) at Joggles.
Remember, the journal quilts don't have to be 'sewn quilts'. Experiment with rag-rug making, needlefelting, fabric fusing and even fabric dyeing and painting. There are so many ways to express creativity - so do feel free to think outside the box!

Homeschooling-Ideas

›
Kids Craft Ideas
›
Journal Quilts