Kindness for Kids
The children have been really excited this week about one of our 'kindness for kids' activities!
When working on my
random acts of kindness ideas
, I came across a wonderful Australian blog called
The Toy Society
.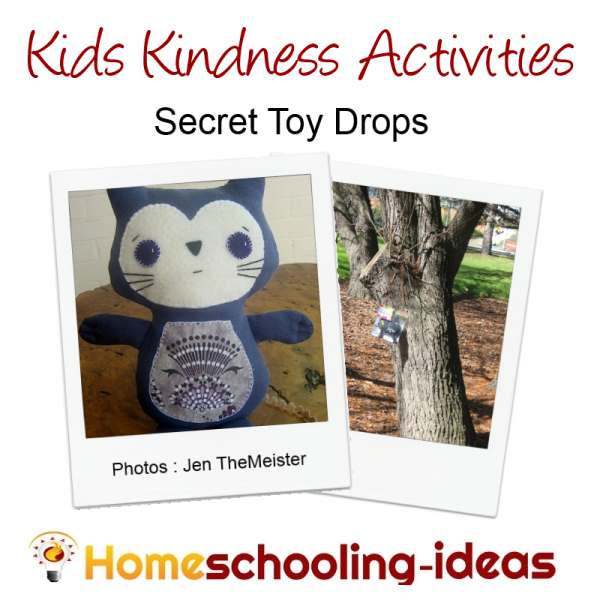 Members of The Toy Society
create handmade toys and anonymously leave them in public places to be found and given homes by complete strangers
.
The children were enchanted with the idea
. We spent a lot of time reading about 'toy drops' around the world, and how the toys were found and taken home. It is such a lovely thing to do, and some of the discovery stories bring a tear to the eye!
So first we needed a way for the children to make toys. My children are generally
happy with the things they make
but I needed to find something that would be nice for someone else to find! I suggested
stick dolls
, but in the end we fell back on our old favourite -
needlefelting
.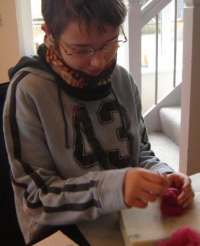 Next, we signed up and packaged our little toy with a 'Take Me Home' label and the official Toy Society letter explaining the project.
The children loved the secrecy of dropping off the toy
. We chose a local forest's visitor center that we use regularly for walks. We made the drop at the begining of the walk, and by the end
it had gone!!
. To the great excitement of the children.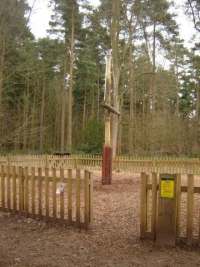 We have had a wonderful time with this kindness for kids project
. I think it has really helped them to see how fun it is to be kind to others - and given them a taste for doing more!
We have had several more ideas for toy making sessions, so I will update this page as we do more. In the meantime, why not try it with your children! And do let me know how you get on.
More Toy Drops
I was delighted when
Sonya
emailed me to say her children had been inspired to do a toy drop.
"W and C have been absolutely gripped by the toy drop idea. Also it was very helpful because my sister-in-law had given us a needle felting kit for Xmas and until we watched the video links you put on we didn't know how to use it. So they have now made two cute little felted birds and printed off the Toy Society letter"
The needlefelted toys were left in a country park in South Wales, and were gone when they checked later. I am sure the recipients will be thrilled with the toys - it looks like they did a great job.
C's Toydrop
Homeschooling-Ideas Home

›
Homeschool Ideas
›
Kindness for Kids