Random Acts of Kindness Ideas
Home
>>
Home School Ideas
>>
Random Acts of Kindness Ideas
"No one has yet fully realized the wealth of sympathy, kindness and generosity hidden in the soul of a child. The effort of every true education should be to unlock that treasure."
Emma Goldman
Homeschooling should be more than just about facts and figures.
As Homeschoolers, we have a wonderful opportunity for introducing
character building activities
. One of the best ways of teaching kindness and compassion is, of course, by example.
I hope you find my
random acts of kindness ideas
inspire you to begin
teaching kindness
to your children.
Kindness Activities for Children (and Adults!)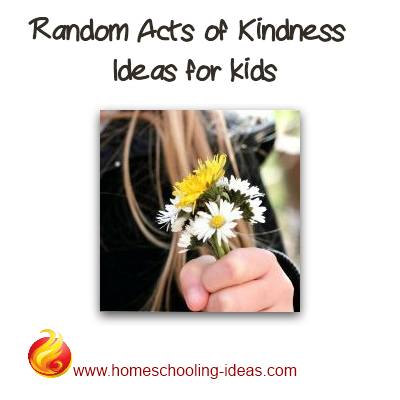 I have tried to pick ideas that don't cost a lot of money. Some are just little ideas, but others would make great homeschooling projects.
Smile at people you meet.
Leave a toy for someone to find through The Toy Society. We really loved the idea of making some small toys and leaving them as a surprise gift. A Stick Doll would be simple for children to make.

Read how we got on with this activity.

This idea of leaving gifts for strangers to find would also work well with packets of seeds, a book of stamps, books or some Nature Art.
Pass on your car-parking ticket to someone pulling into the car park.
Leave positive, well wishing notes around for your family - and for strangers.

When doing a project on the legal system once, we set up a 'complaints box' that we 'held a court' about once a week. I quickly abandoned the idea when the children began to keep watch for something to complain about!! I think it is a much nicer idea to find nice things to say and leave little notes about that instead!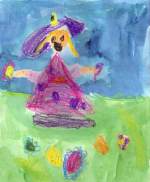 Operation Nice has some printable notes available, including 'great service notes' to leave in cafes and shops.
Color A Smile collects drawings and pictures made by children, and distributes them to Nursing Homes and Meals on Wheels Programs. Isn't that a lovely idea? Seeing children's drawings always make me smile!
Take old toys and books to a charity shop/thrift store.
Use a charity search engine such as Goodsearch. This raises money for charity every time you do an internet search.
Leave money in slots of vending machines or car park ticket machines to pay for the next persons purchase.
Pick a bunch of flowers and leave them on someones windscreen.
Become a Chemo Angel to support someone undergoing chemotherapy. Although the scheme does not accept angels under 25 years of age, the children could still help you pick out cards and gifts.
Pick a Charity to support. Adopt an endangered animal at the zoo, or help your local hospice.
Pick up litter in your local area.
Knit something for charity. If you are a beginner knitter, try a square, or knit for premature and stillborn babies via The Preemie Project (USA) and Cuddles (UK)
Host a child from Chernobyl. A few weeks holiday with fresh air and good food can really boost the immune systems of Chernobyl children. Find out more about this scheme in the USA, or the UK.
Make a mental gift. Sending energy or a mental gift can also be uplifting. Silvia Hartmann explains the concept.

This type of project is perfect for teenagers because they are more likely to 'own' the project. Take this inspiring example from 13 year old, homeschooled Keilee.
Isn't that wonderful! Why not get your own teenager involved in a similar project. Or try the Toy Society project I mentioned above - I am sure teenagers would have lots of ideas about toys they could make.

Got your own
random acts of kindness story or idea
? Add your own or
Read other visitors stories
.
Got a Random Acts of Kindness Idea?
Why not share it?
Have you found a great way of teaching children about kindness? Found a kindness resource? Got a story about a random act of kindness?

I would love to hear about it. Why not share your story or idea.

Read other visitors experiences and questions...
Click below to see contributions from other visitors about random acts of kindness...


More Ideas?
A
THINK
bracelet would be a good way to remind yourself to be kind.
Demonstrate the
meaning of Thanksgiving
with a thanksgiving tree.
Go to Homeschool Ideas from Random Acts of Kindness Ideas Page
Go to Homeschooling-Ideas Home Page