Nature Crafts for Kids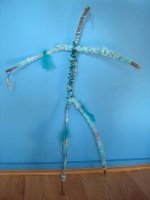 Have you
been on a homeschooling nature walk?
If you children are like mine they will have brought a few sticks home! There are quite a few crafts you could make with the bits and pieces you have collected.
Stick doll
The Tree Project
Science with Pinecones
Home School Crafts - Stick Doll
A
stick doll is easy to make with great results
even for little ones. You will need:
2 sticks - one straight and one with a Y shape.
Some yarn - thick 'arty' yarn is best.
To help your child make the doll :
Using the Y part of one stick as legs, place the other stick crosswise to make arms.
Starting at the head begin to wind the yarn around the sticks. Catch in the end of the yarn to hold it in place.
Keep winding
until you have covered the sticks in yarn - changing yarn when you like. The yarn will hold the arm sticks in place.
Tie or stick the end of the yarn in place.
When you have finished you could decorate your doll with beads and ribbons.
I find these little dolls come out nicely and would make great gifts.
The Tree Project
Science with Pinecones
---
Home

›
Craft Ideas for Kids
›
Nature Crafts for Kids