Natural Clay Art Work
Try this fantastic clay project - make a clay art-work tile from mud.
I have been talking to mud sculptor Kiko Denzer about his great book, Dig Your Hands in the Dirt: A Manual for Making Art out of Earth and he agreed to let me share with you one of his projects.
The project is to make a tile from mud and I think it is a great homeschool idea. Making beautiful things from mud seems to me to be a wonderful thing to share with your children.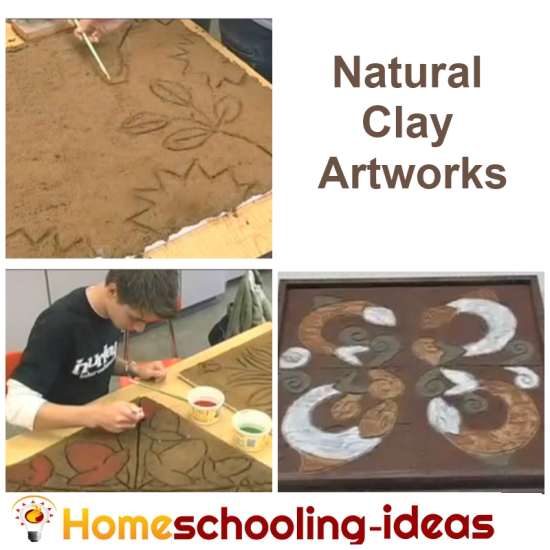 The video below is a good walkthrough of the project, then I have more details for you below. Skip to about 2.30 minutes in to get to the knitty gritty!
How to Make the Clay from Mud
The clay is made from
Sand
Mud
Newspaper
Wallpaper paste
For the clay/mud mixture, use two or three times as much sand as mud, and the mud must be clayey subsoil, not your good garden dirt
.
The newspaper must be blended up into pastey kind of stuff so you don't get clumps of paper in the mix. If you have an old blender then you could use that.
Add just a dash of wallpaper paste (pour thin flour and cold water batter into boiling water and turn off the heat immediately).
Dont fancy that? You can still try this project using one of these
homemade clay recipes
instead.
You will see on the video that they smooth the clay onto panels.
Use a piece of sheetrock wallboard (plasterboard to us non-americans) for this
- the mud sticks to it very well. Wood isn't typically recommended as backing for mud because with time it will shrink and swell with ambient moisture and the mud will fall off.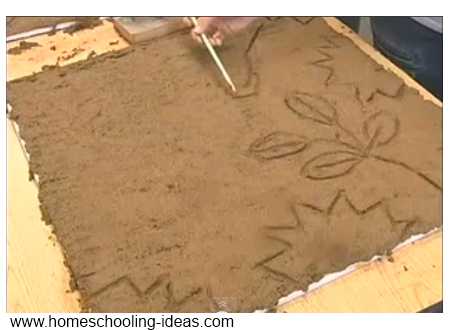 After your tile has dried coat it in liquid glass (available from Ebay!). It doesn't seem to be toxic, but I would use caution with the smaller children!
Paint your artwork with thinned mud, water glass and coloring - I am guessing powder paint would work well here.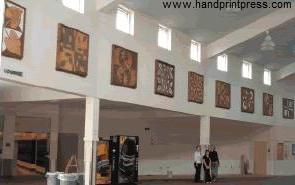 Of course, you can make a much smaller tile than shown here - or try using your clay for one of these
clay projects for kids
.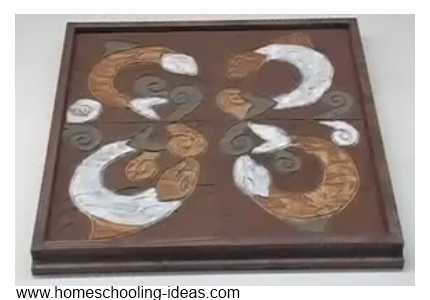 I think making this natural clay art work could be incorporated into all sorts of educational homeschool projects - and I hope this has inspired you.
As kiko says :
Try it and see what happens!

Want to know more about Kiko and his books?
Read all about him and his
mud art
books.
More clay based projects?
Why not try
building your own kiln for pottery
or
smoke firing pottery
.
Homeschooling-Ideas

›
Kids Craft Ideas
› Natural Clay Artwork