Homeschool Nature Table !
Ever since they were tiny, my children loved to come home from nature walks clutching treasures they had found!
After several years our collection got too large to fit on a table. I needed to find a new solution that wouldn't take up so much space - but still be attractive.
The Homeschool Nature Cabinet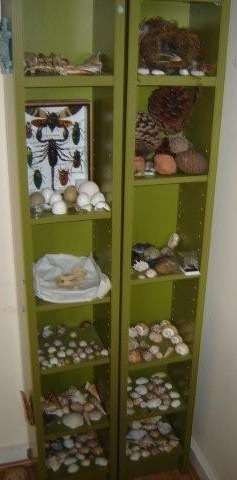 The solution came in the form of two CD cases we picked up from IKEA.
The squares of the cases display the treasures nicely and keep things organized. They also take up a lot less room and stand nicely in the corner of the room. The 'treasures' are also less likely to be knocked over and broken by rowdy children.
My children spend a long time re-organizing their collection and displaying it to it's best advantage
. It has become an important part of our home and often the first thing that new visitors get shown.
And of course, it is great for nature study.
Setting up a Nature Table
If you would like to set up a Nature collection with your children, then here are a few ideas ;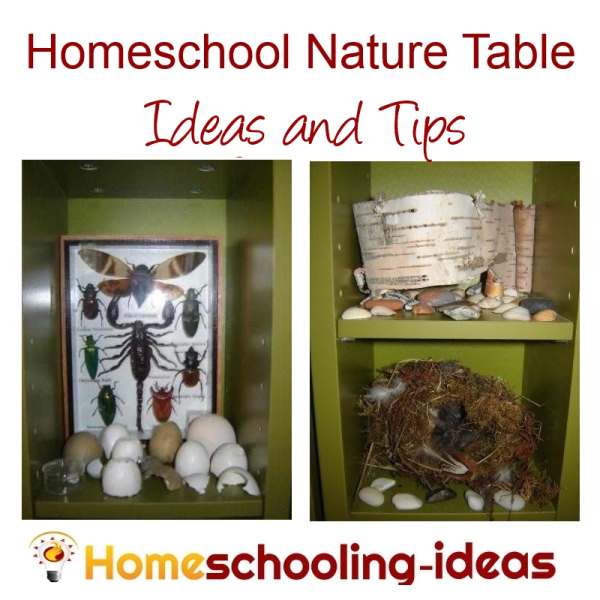 It takes time to build up a good collection - but even a few items will look attractive. Keep you eyes open on your nature walks - it is amazing what you will find!
Different seasons will bring different treasures. Watch out for empty birds egg shells in the spring, and nests blown from the trees on blustery fall days. In the winter remember to take photographs of footprints in the snow. And summer days at the beach will easily add to your collection.
Don't be discouraged if you live in a town. You are still likely to find feathers and leaves in your neighbourhood. Get creative by adding dried squash or herbs, photographs of items you can't find and models of animals.
A few good nature books will stand you in good stead. If you can store them near to your nature collection it will encourage the children to pore over them.
Regularly prune your collection. Items will get dusty and broken - to keep the display nice you will need to change things around.
Double sided sticky-tape inside a small box makes a good place to put dead flies and spiders. (Yes - I know this is gross!! But children love it!).
If you have young children who are liable to put things into their mouths - then please vet items that may be poisonous or cause a choking hazard.
Nature Table Storage Solutions
A Nature table doesn't have to be a table!!
A drawer, box or shelf works just as well. Try to put it in a place where it is accessible, but not likely to get knocked over or damaged.
Here are some of my storage solution ideas.
Good luck with your Nature Table
. I hope you have as much fun with yours as we have had.
More !
Crafts and NatureHomeschooling
Homeschooling-Ideas

›
Homeschool Ideas
›
Homeschool Nature Table