The Periodic Table for Kids
Home
>>
Homeschool Science
>> The Periodic Table for Kids
Ever thought about collecting elements and making your own periodic table? It is easy to do to when you know what to look for.
When the children got interested in mining (from a computer game!), I thought it would be a good time to introduce them to the Periodic table.
I looked around for some ideas, and
inspired by this great periodic table site
we decided to have a go at making a
Periodic Table Box
.
It was a huge success! So I wanted to share.
How to Make a Periodic Table Box
We used
a box divided into nine segments
. But of course, you could use any type of container and make your project as big or small as you wish. How about using a CD case like we did for our
nature table
?
Because we had just visited a flint mine the children wanted one of the squares to show off their piece of flint!
Then we began to collect elements to add to the box.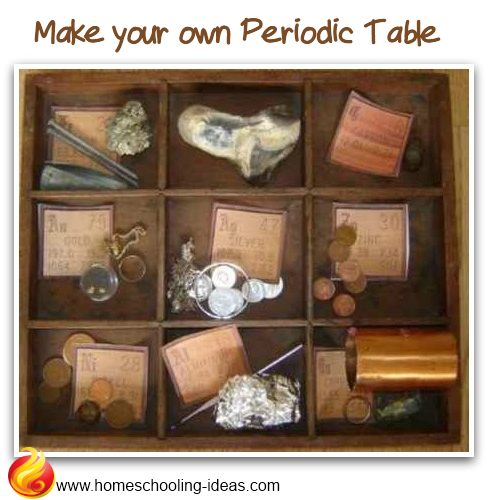 Home School Science
We chose
8 elements that we thought we would be able to collect
. We included compounds to make it a little easier on ourselves!
Here are some
examples of elements and compounds you should be able to find easily for your collection
.
Iron (Fe 26) - (we included steel). Steel wool (you know, for cleaning!), ball bearings, horse shoes, chainnmail (what! you don't have any of this lying around!) cast iron pans, iron filings (from your chemistry set). The blade of a metal pencil sharpener is steel. Food cans (steel)
Copper (Cu 29) - copper piping, modern uk and US pennies are copper coated, electrical wire.
Gold (Au 79) - We bought a couple of tiny gold nuggets from Ebay. We also added a gold ring, and bracelet. Gold Leaf sheets are available in craft shops.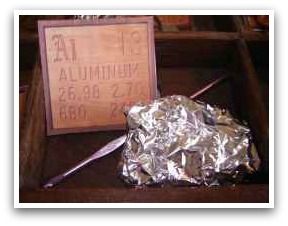 Aluminium (Al 13) - Tin foil is made out of aluminium. The covering on tablet packets, the back of mirrors. tent pegs, knitting needles, crochet hooks, aluminium pans, drinks cans.
I started compiling a list of more elements for you to collect and it got a little long! So I have moved them into a downloadable list of elements. It should give you some extra ideas for your collection.
More Periodic Table for Kids Ideas - Links
I have some worksheets, lesson plan ideas, and periodic tables you can print to help you teach the table to your children. Check out my other links and ideas.
Kids Periodic Table Worksheets, Printables and Games.
If you have found more creative ways of studying the Periodic Table for Kids- I would love to hear about them!

More Homeschool Science Ideas and Resources
Go to Homeschooling-ideas Home from Periodic Table for Kids