Kids Periodic Table Links
Activities, Games and Worksheets for learning the Periodic Table
Home >> Home School Science >> Kids Periodic Table
There are lots of ways to help children learn about the periodic table. Try an activity, play a game - follow up with a worksheet and you will be on your way!
Learning about the periodic table doesn't have to be a drag!
Kids love to get involved, so these ideas include lots of hands on activities for you to try. When they are having fun, you can be sure they are learning.
Periodic Table Activities
Here are some fun things to try when learning about the periodic table.
More Periodic Table and Resources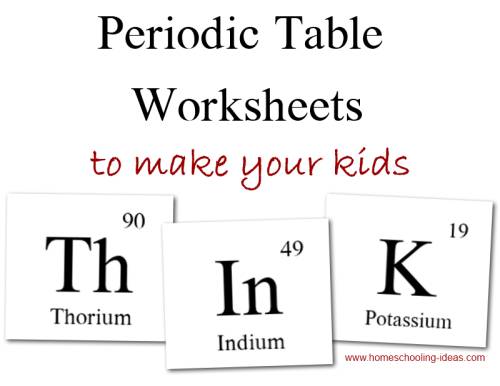 Do you Homeschool?
Get creative. This website is all about great projects and creative activities you can use in your homeschool. Click the button below now to get inspired!

More Home School Science Ideas and Resources

Leave Kids Periodic Table for Homeschooling-ideas Home