What Steps Do I Have to Take to Homeschool?
Question
I want to start homeschooling my children they are already in school but I would rather them be at home with me, I do like to plan so I think is what I will do but how easy will it be for me to take my children out of school?

Also where would I get all the material from that they would need to learn? Can I also print off tests so I know that there at the level they should be? I am sorry for all the questions but I am really serious about this and would like to start as soon as possible.

Thank You Carly



Answer
Hi Carly
Wow - lots of questions. Let's see if we can't clear some of them up.
You didn't tell me where you live, so I can't tell you exactly what you will need to do to take your children out of school. But don't worry. I have a free workbook that will help you understand the laws and requirements where you live. Just sign up and it will talk you through it.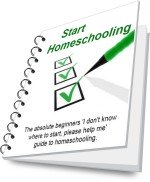 How to Start Homeschooling

FREE Workbook and 7 Day Course
The book will also help you get in touch with other homeschoolers where you live - and they will be able to tell you how they do things and answer your questions.
Next, you wanted to understand what to teach them. You may not need to do testing depending where you live. I know that you want to understand the level they are at, but that will be clearer for you once you start working with them.
When you are homeschooling you are responsible for your children's education, and this usually includes deciding what to teach, and how to do it. There is not a set place where you can go to find the material you need. But this is good because it gives us a lot of choice and flexibility so we can really make the education suit our child.
To get started, you can either find a curriculum to use (there are some
free homeschooling curriculum
you can start with). Or you can start to do projects with your children that you think they will enjoy. You can see the type of things we do on my
free homeschool curriculum
page and my
homeschooling ideas
page.
Another good place to look is
Currclick
. They have lots of downloadable stuff that you can work through.
I would start by deciding on a subject your children would really enjoy learning about, and then finding some things to do around that. So if they are interested in Egypt for example, you could read some books about (check them out of the library), go to a museum, build a model of a pyramid and so on. If you think about how you can all have fun learning new things then you will be on the right track.
I hope that helps you to start! Good luck and have a great homeschooling journey.
best wishes, Julie.
Further Reading
How to Homeschool
How to Homeschool
Homeschool Socialization
Deschooling
How many hours to Homeschool?
Do I need a Curriculum?
How to Homeschool FAQ
How to Homeschool in 3 Steps
Getting Started with Homeschooling
Homeschooling for Beginners
How to Get Started
Go to
Homeschooling Help from What Steps Do I Have to Take to Homeschool?
.
Go to
Homeschooling-ideas Home from What Steps Do I Have to Take to Homeschool?
.