Zentangle
Think doodles, sketches, pencil drawings!
What are Zentangles?
They are a creative art form that is used for stress reduction, and to help develop dexterity in children.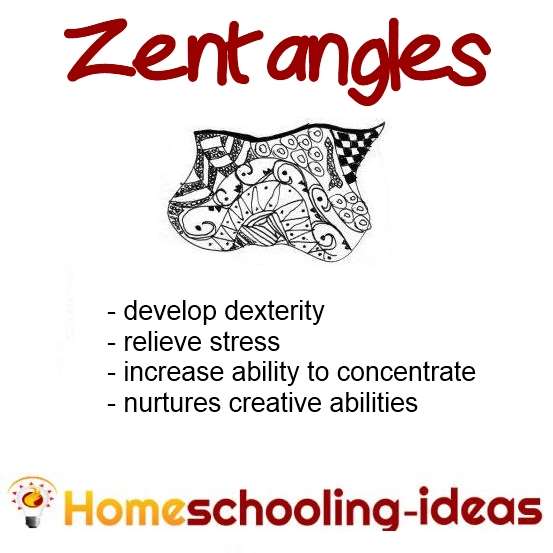 Developed by Rick Roberts and Maria Thomas, this doodle art form is perfect for homeschooling. They can be drawn by even young children, and some of the benefits claimed are:
Relaxation.
Increased self-esteem.
Inspiration.
Nurtures and develops creative abilities.
Relieves stress.
Improves eye/hand coordination.
Develops/rehabilitates fine motor skills.
Early artist development and appreciation.
Increases attention span and ability to concentrate.
How can you not want to try this in your homeschooling?
This is a perfect activity to use with
journaling for kids
or as part of a
home school crafts session
.
So what is the best way to get started?
If you are working with young children then keep everything big - they won't manage tiny drawing. And remember to use a nice pen - gel pens or
Pigma Micron Pens
are good!
There are really good tutorials available online. Why not print them out and add them to your
ideas daybook
.
There are
books available
, but to be honest the one I bought only had 8 pages, and didn't give me any more information than I could find on the internet.

Zentangles work really well for teenagers as well as younger children. Once they have grasped the idea they usually can create beautiful works of art.
You could experiment with different patterns and colors. They look beautiful on a watercolor background.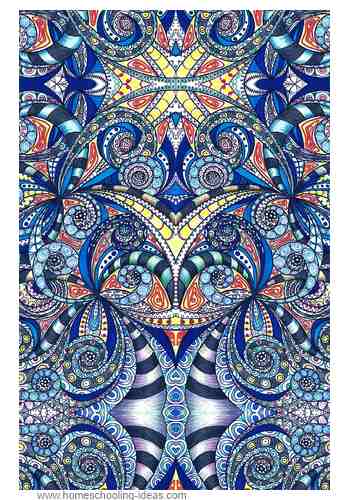 Use your zentangling to decorate clothing, bags, rocks or walls! In fact, just about anything. 
Enjoy!
We have really enjoyed creating these little doodles and have found them very relaxing and fun to do.

Do you Homeschool?
Get creative
and try some new ideas. Every month I produce a newsletter to inspire and encourage you in your homeschooling.
Click the button below now to get inspired!

Homeschooling-Ideas

›
Kids Craft Ideas
›
Doodles