Homeschooling Pros and Cons
Home >> Pros and Cons >> Homeschooling Pros and Cons
JV is fairly unique in that she has one child at public school, one is homeschooled, and one child attends school part time (flexischooling).
Surely, if anyone could provide me with an unbiased view, she could! And she was happy to share with me her homeschooling pros and cons.
Advantages of Homeschooling
We started with what JV felt were the advantages of homeschool.
"I think the best thing about homeschooling is that you can help your child pursue their enthusiasms. It is more interesting and ultimately more educational, to follow and develop the things your child is interested in.
I also love the flexibilty. We are not stuck with a particular timetable or list of subjects, or at working at a certain level.
"I also think that homeschoolers can easily replicate the extra activities that happen in school - that are supposed to be hard for us to copy" she added.

"One of the teachers was telling me how wonderful it was they had arranged for a spinner to come into the classroom for an afternoon to talk to the children about fibre-crafts. But we do this type of activity a lot as homeschoolers. It certainly isn't an opportunity that only schools can provide." We can have field trips when we need to, or visit friends or investigate something we thought about last week. Homeschooling is freeing!"
More advantages to homeschooling.
We then talked about what she felt were the disadvantages.
She said that with homeschooling there was often a natural enthusiasm for certain subjects in the home. But a good teacher at school could introduce and get children enthusiastic about new or different subjects, giving the children a positive experience of subjects that may not have been viewed quite so enthusiastically at home.
The other good thing about school, (and one of the main reasons her middle child likes to attend), was getting independent recognition doing a good job.
"It is all very well Mom or Dad saying you have done a good job - but being told that from someone outside the family can carry a lot of weight. Some children find this important"
JV told me she felt that high school exams could be much easier to take within the school system.
"It isn't impossible for homeschoolers to take exams" she said, "but it does require a fair bit of planning and hard work. When the child is at school you can concentrate on helping the child through the exam, rather than spending time deciding on which exam board you will use, and arranging the exams and assessments yourself."
More homeschooling cons.
One she didn't like about the school environment was the stress of school.
"Making sure kit is ready, lunches are packed, homework is done, and picking up arrangements are in place can be time consuming and stressful." she said. "Homeschooling is so much more relaxed. Everything is here and we can set our own timetable."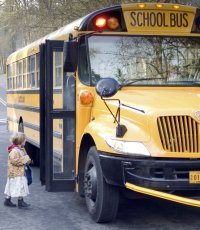 "Also there is the problem of peer pressure within schools.
Socialization is always talked about with regards to homeschooling, but children can end up in classes where they have nothing in common with the other pupils.
It seems endemic in schools that you shouldn't stand out. School is all about fitting in and not being different from everyone else. I like that with homeschooling the children have the space to just be who they want to be.
More about Homeschooling vs public schools.

My thanks to JV for sharing her homeschooling pros and cons.
Still weighing up homeschooling pros and cons?
Would you like to see a quick overview? Try the Homeschool Pros and Cons page.
Just starting out?
Wondering how to really get started with homeschooling? Here is my advice on how to start homeschooling your child.
---
More Homeschooling Pros and Cons

Leave this Homeschooling Pros and Cons page for Homeschooling-ideas Home Page