Free Homeschooling
How to Homeschool Your Child For Free!
Is it really possible to do free homeschooling?
Most families that choose to keep one parent home to homeschool feel the squeeze financially. 
As costs spiral, it pays to remind yourself of the educational resources available free to homeschoolers. 
There are so many wonderful resources available to us as homeschoolers. Not just curriculums but materials and equipment. 
Let me show you my favorite ways and ideas to homeschool for free!

Homeschooling for free is often just a case of using a lot of perseverance and imagination! There are a lot of opportunities to do things for free - you just need to know where to look.
Homeschooling for Free!
My favorite free homeschooling resources.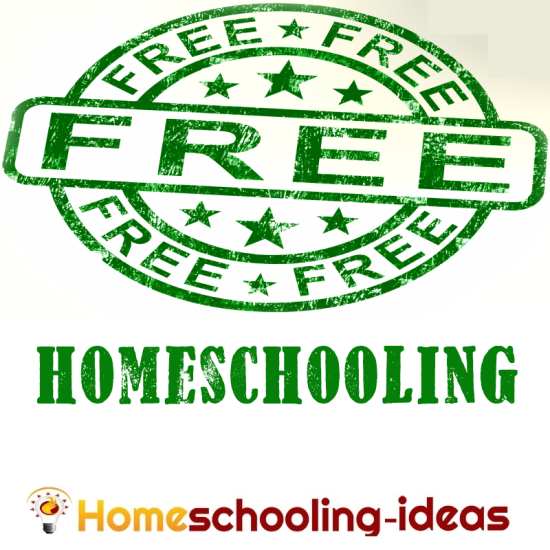 Free Homeschool Curriculums
One of the most expensive parts of homeschooling is buying the curriculum. But I really advise you to not go out and buy one until you have tried out some free curriculums. 
This will give you a good feel for what you like and don't like in using a curriculum - and you may even decide you don't want to use one at all! There are plenty of other ways to homeschool without one.
Free Books and Magazines
Books have always been a mainstay of our homeschool! We all love to read and get so much information and knowledge from them - even from fiction!
There are several places you can look for free books for homeschooling.
And don't forget your library too!
Make use of the Internet
The internet is an absolute goldmine for the homeschooler looking for completely free homeschooling
. There are so many resources available!
Television and Radio Programs
Many educational programs appear on TV - both for children and adults. The key to taking advantage of this is to plan ahead.
Check your TV and Radio Guides for educational programs you think your children may enjoy
- and record them in advance. Look out especially for school broadcasts. They might have just the resource you were looking for!
We often download radio programs or
free educational podcasts
from the internet, and listen to them in the car.
Free Field Trips
Libraries, Museums and Art Galleries
are probably the first community resource you think of. But also check your local newspaper or library bulletin board for
free lectures and talks
in your area. Many cities and towns provide
walk-in exhibitions and recitals
.
Try these ideas for
free field trips
.
Often just taking a walk can unearth opportunities for homeschooling. Make a
Nature Table
from your finds, or try a
Photographic Treasure Hunt
.
Use your Community
Your community holds a wealth of knowledge and most people are keen to pass on their skills
. Ask around if you are looking for something (or someone) in particular!
When my children were particularly interested in insects we met an entomologist who got great pleasure from encouraging them - and bringing them unusual caterpillars and bugs to look at. Our local kayaking group holds a free family taster session every summer. The local observatory have kindly said we can take our children to a 'members only' evening to look through telescopes and chat to members about what they are seeing.
Social groups and guilds
(such as knitting or quilting groups) are usually very friendly and welcoming to someone looking to try their craft.
Volunteering
is also a great way to get involved in your community and get to know people - as well as being a a great way to get some free homeschooling!
Free Resources and Materials
Travel Agents are a homeschoolers friend!
Travel brochures are great for geography based projects
like
this one
. Pick up paint chip cards and wallpaper samples from DIY stores for craft activities. And sign up for free magazines or newsletters when you see them offered - it may spark something with the children - and at the very least is good for paper mache!
Keep your eyes open for things other people discard
. Shops often discard boxes or wooden pallets they no longer require. Offices discard paper when they change their letterheads. Upholsterers may have old fabric sample books.
By asking around you will be able to unearth all sorts of treasures
.
Another great resource for getting things other people don't want anymore is Freecycle
. Some schemes even let you ask for things you require - and failing that you could try
advertising in your local paper
. A friend of mine got an old fishtank this way. It leaked, so wasn't suitable for fish - but made a great bug house!!
More ideas for free resources :
Free computers. There is a wonderful list of places that make old computers available for re-use on OpenCollectors.com and another list here.
ScrapStores or Creative Reuse Centers are a great place to pick up (almost free) office and craft supplies. Google for your nearest location.
I hope you find these ideas for free homeschooling helpful - and you can see that it is possible to homeschool your child for free.
Be imaginative - and you will find help and resources right where you need them.

Homeschooling-Ideas

›
Homeschool Freebies
›
Free Homeschooling