Fall Activities for Kids
Fun Homeschool Ideas for Autumn
Looking for some fun hands-on projects? Try these homeschooling fall activities for children.
With the leaves changing on the trees and the weather getting colder - Fall is the perfect time for some hands on activities.
I have gathered together a host of ideas from around my site - all perfect for fall homeschooling. As well as science and craft ideas I outline some indoor and outdoor fun.
I hope they inspire you and I would love to hear how you get on.
Fall is a wonderful time to get stuck into some creative projects.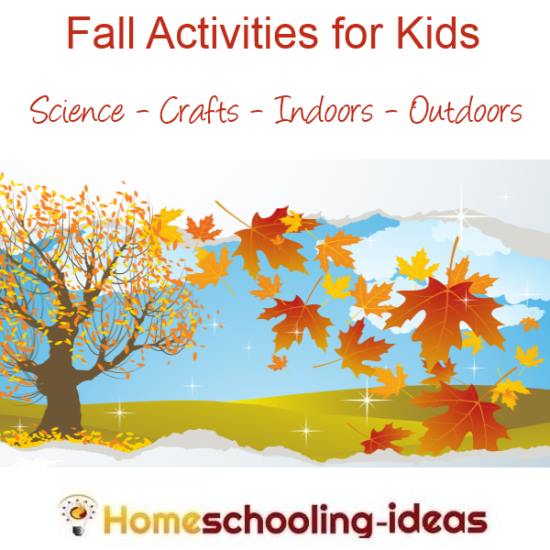 Science Activities
Simple Science Leaf Experiment
- Collect two leaves (a green one and an autumn colored one). Use a coin or the top of a pencil to rub each leaf onto a piece of coffee filter paper. (You need to rub hard enough to leave a mark on the paper). Cut the paper into two strips with the marks at the top of each strip. Now dip the bottom of the strips into alcohol. As the alcohol spreads up the paper, it will split the leaf rubbing into several pigments, or colors. You will see that the green leaf splits into several colors (usually including green and two types of yellow pigments). The autum leaf will show the other pigments, but the green pigment will have gone.
Craft Projects/Leaf Project

The Tree Project - we have been decorating an indoor tree as the seasons change. Use tie-dyed leaves made from coffee filters, or real leaves pressed between sheets of clear sticky plastic, and cut out.

Easy Clay Leaf Bowls - making leaf shaped bowls are easy fall activities for kids. If you want to make your own clay, check out my homemade clay recipes.

Needlefelt a pumpkin
- needlefelting is easy to do with children. Try needlefelting a pumpkin, or make a whole autumn quilt.
Stick Dolls
are easy to make in the fall. You just need two sticks and some yarn. Good for even small children.
Leaf Placemat
- collect different types of leaves. Make a pattern from them onto paper, then either laminate or press between to sheets of clear sticky-backed plastic to make a fall placemat. We like to cut out letters and add our names to the placemats too.
Leaf Printing
- Experiment with making prints from leaves, apple halves, or even seeds. You could also try leaf rubbing by placing paper over the leaf and rubbing with a crayon.
Kaleidoscope Pictures
. Try this fun homeschooling project. Follow the instructions using pictures of autumn leaves or other fall scenes.
Outdoor Fall  Activities for Kids
Homeschool Nature Table - fall is a great time to update your nature table. Get some creative ideas on collecting and displaying nature items. Why not try making an autumn seed collection, or seeing how many types of leaves you can find.

Geocaching for Kids - while the weather is still fair, why not do some autumn geocaching walks.

Help the Birds - Fall is a good time to make a bird table, or some bird feeders.

Foraging
- Fall is a great time to explore nature's harvest. It you look carefully you should find blackberries, elderberries, rosehips, crab apples, sloes, hazelnuts and sweet chestnuts. This is one of our favourite fall activities for kids, but do be sure you are not picking something poisonous. If you want to play safe, why not stick to blackberry picking and make some sugar free jam.
Mushroom Hunting
- We like to go mushroom hunting during fall. Not for eating, but to take photographs of as many different varieties of fungi as we can. The children usually make a large collage or use them in a lapbook.
Homeschooling Photography for Kids
- another great project to start in the fall, is to begin photographing the same tree once a week. It is a wonderful way of bringing the changing of the seasons to life.
Make a scarecrow
- Collect together some old clothes, and stuff with straw to make your own scarecrow. You can leave him to guard your garden, but in the UK it is tradition to burn him on your Guy Fawkes bonfire on November 5th.
Plant a Tree
- Why not try planting some of the autumn seeds you find and see if you can grow your very own tree.
Fly a Kite
- take advantage of blustery winds to make and fly your own kite.
Indoor Fall  Activities for Kids
Educational iPod Ideas - With the weather changing, why not turn your kids ipods into an education.

Homeschool Cooking - fall is a great time to bake bread. Or why not try to cook a meal using only fall harvest ingredients. If you have a lot of windfall fruit, then another great project is making fruit leather. Try this easy fruit leather recipe to get you started.


Make a Homeschooling Lapbook
- Make a lapbook all about Fall. I have put together some
Images of Fall
to get you started.
Listen to some Fall Music
. There is some wonderful music available to bring fall into your homeschool. Try :
Vivaldi - Autumn from The Four Seasons
Tchaikovsky - Harvest song and Autumn song
Kuwahara - Song of the Japanese Autumn
Holiday Project Ideas
Sponsored Links

I hope you enjoy these fall activities for kids in your homeschool as much as I have with my children! If you would like more ideas, why not sign up for my free monthly homeschooling newsletter?
Homeschooling-Ideas Home

›
Homeschool Ideas
›
Fall Activities for Kids